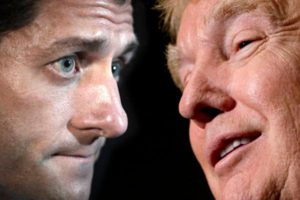 With the holidays behind them and a GOP-controlled federal government ahead, Congress returned to work yesterday to tackle the nation's top priorities. First on their list, essentially eliminating the independent Office of Congressional Ethics. Sarcasm aside, I use the word "essentially" because the OCE would still exist under the new name of Office of Congressional Complaint Review, but it would have been subject to additional oversight of the Republican-controlled House Ethics Committee, essentially making the OCE unnecessary.
Supposedly, House Speaker Paul Ryan and House Majority Leader Kevin McCarthy opposed the idea and were outvoted—a claim that I sincerely doubt. If past history has shown anything, it's this: whatever the RINO establishment wants, the RINO establishment gets.
Eventually, the idea was shot down, so why did GOP leadership participate in this endeavor? I believe it provided a way for Ryan and Company to take the focus away from the ethical challenges facing Donald Trump just days before his inauguration. In fact, Trump took the opportunity to Tweet—get used to having Twitter as your source for White House news—his opposition, allowing him to appear to be the ultimate defender of truth, justice, and the American way (my apologies to Superman).
If you disagree with me on this, then why did the House decide to reverse their plans only after Trump tweeted his objection?
Here's another question to ponder. Why would the GOP spend any of its political capital with the voters to attempt this in the first place? Was it possibly a collaborative effort?
I believe the answer to that question can be found in a recent piece written by Steve Deace over at Conservative Review, Five Things I Learned about our Post-Conservative America. Though not about the OCE story, Deace points out that "there will be no swamp drainage," and how "every single one of our conservative heroes will bow the knee to Trumpism, whatever it turns out to be." In my opinion, "whatever it turns out to be" means that the end result will be a so-called Conservative Republican party void of ethical character.
Only time will tell if I'm right or wrong about this, but ask yourself this question: When you consider how Trump was successful in getting Conservatives to kneel before him before he held power, what would he be willing to do to cover his ethical challenges now that he has that power?
Originally posted at The Strident Conservative

David Leach is the owner of The Strident Conservative, your source for opinion that's politically-incorrect and always "right." His articles can also be found on RedState.com.
His daily radio commentary is nationally syndicated with Salem Radio Network and can be heard on stations across America.