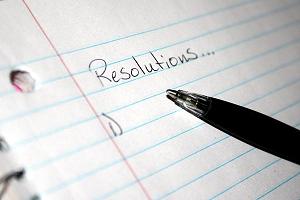 With 2016 in the rear-view mirror, and the road ahead pointing us to 2017, it's healthy to reflect on the past year as we make preparations for the new year. While I'm sure that there are some things that didn't go as planned last year, I hope you'll take some time to reflect on the good things, the true things, that God brought into your life. Speaking from personal experience, I know that even when life doesn't turn out exactly as planned, He is still causing all things to work together for my good (Romans 8:28).
And that's true for you too!
After reflection, it's time to begin making plans for the year ahead. In the aftermath of a challenging 2016, the year ahead could be the most critical of your life . . . and the life of America.
Following the failed presidency of Barack Hussein Obama, 2017 will be Donald Trump's first year in office. And Conservatives across America are concerned about how he lead America. Will he get the country back on course as he promised, or will he be just another Liberal? A valid question considering his propensity to abandon his campaign promises, such as fully repealing Obamacare (he wants to keep parts of it) and prosecuting Hillary Clinton (he doesn't want to "hurt her").
After displaying a disturbing lack of understanding concerning the Constitution, Trump has made troubling statements about the First Amendment (particularly Freedom of the Press) and the Second Amendment, raising serious concerns about our constitutional rights, and whether he will "protect and defend" them as he will be sworn to do.
And then there's the RINO establishment, led by Mitch McConnell and Paul Ryan. These spineless wonders chose the status quo over doing the right thing throughout Obama's entire presidency. Now that Washington DC is 100% GOP-controlled, will Republicans put up or shut up in 2017?
As we make plans and resolutions for the new year, let's commit ourselves to roll up our sleeves, stand firm, and fight to restore the Constitutional Republic created by the Founding Fathers–not only for ourselves, but for those who will follow in our footsteps. We need to be resolute in holding Donald Trump and the GOP accountable to this goal. We need to force them to keep the promises they made to the American people.
Only then can 2017 be a truly Happy New Year.
Originally posted at The Strident Conservative

David Leach is the owner of The Strident Conservative, your source for opinion that's politically-incorrect and always "right." His articles can also be found on RedState.com.
His daily radio commentary is nationally syndicated with Salem Radio Network and can be heard on stations across America.