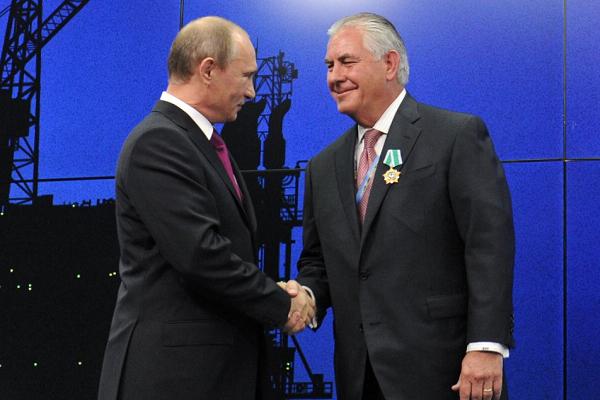 Following revelations by Roger Stone–the sleazy advisor to the Trump campaign behind the National Inquirer "articles" about Ted Cruz's non-existent extramarital affairs, and "confirmed" that Ted's father (Rafael) was an accessory in the JFK assassination–that Trump only interviewed Mitt Romney for Secretary of State to "torture him" for calling the New York Liberal "a phony and a fraud," Donald Trump officially named ExxonMobil CEO Rex Tillerson to be the next Secretary of State. To say that this is a troubling choice by the president-elect is an understatement.
The selection of Tillerson reeks of the same kind of quid pro quo politics Trump and his cult followers found so abhorrent during the campaign because it "rigged the system."
To begin with, the Exxon CEO has a too-close-for-comfort relationship with Vladimir Putin. In 2011, Tillerson worked hand-in-hand with Putin to drill offshore in the Arctic Ocean–a deal potentially worth $300 billion in revenues. In 2014, ExxonMobil began drilling in the Kara Sea, sinking more than a billion dollars of company money into the project before being forced to abandon it due to U.S. sanctions levied against Russia following the Ukrainian crisis. Nevertheless, for his efforts, Tillerson received the Order of Friendship from Putin, the highest honor Russia bestows on foreign citizens.
While there are a few big-name so-called Conservatives that recommended and support Tillerson for the job, their endorsement confirms how wrong his nomination is. James Baker, Secretary of State under George H. W. Bush, is a partner at a law firm representing Exxon and Rosneft, the Russian state-owned oil company that partnered with Exxon in the deals mentioned above. In addition, Condoleezza Rice (Secretary of State under George W. Bush) and Robert Gates (Secretary of Defense for George W. Bush and Barack Obama) support his nomination; their consulting firm, Rice Hadley Gates, works for Exxon.
Trump's decision to name Tillerson is also troubling when you factor in his own Russian entanglements, which is believed to be one of the reasons he refuses to release his tax returns. On top of that, there was the resignation of his former campaign manager, Paul Manafort, for his involvement with Russian Oligarchs in Ukraine.
By the way, there are a few non-Russia reasons for Christian Conservatives to oppose Tillerson: he is considered an ally of the LGBT movement and the abortion industry, as evidenced in his involvement in forcing the Boy Scouts to allow homosexuals to serve as leaders, and Exxon's financial support of Planned Parenthood.
While there is some indication that Tillerson's confirmation will be difficult, Mitch McConnell put those concerns to rest when he stated his intention to support the controversial nominee.
In the end, Tillerson is the pick least likely to ease concerns that Trump is too close to Putin, and the Exxon CEO is essentially no different than someone Hillary would have nominated.
The Senate should reject his nomination.
Originally posted at The Strident Conservative
David Leach is the owner of The Strident Conservative, your source for opinion that's politically-incorrect and always "right." His articles can also be found on RedState.com.
His daily radio commentary is nationally syndicated with Salem Radio Network and can be heard on stations across America.