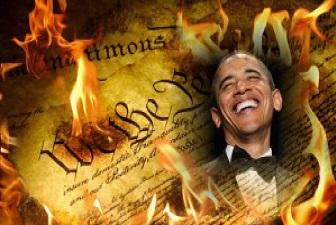 In the days leading up to the election last month, I wrote a piece about how Obama's final days in office could be the time he checks off the remaining items left on his fundamental transformation of America bucket list. While I targeted several areas where I thought he might use (or abuse) his constitutional authority to accomplish these tasks, two of the most important have recently been the news: the betrayal of Israel by unilaterally recognizing Palestinian statehood, and the issuing of a blanket pardon for millions of illegal aliens to save them from deportation.
Based on recent events by some of his fellow Democrats, it could be that Obama is closer to accomplishing these two goals.
Obama's position regarding Israel has been clear from his first days in office, but became more anti-Israel/pro-Palestine in 2011, when he used an international stage to call on Israel to return to pre-1967 borders. More recently, during negotiations with the Senate over the Iranian nuclear agreement last year, Obama rejected a plea–by Harry Reid no less–to disavow a United Nations Resolution calling for the creation of a Palestinian state.
Enter Jimmy Carter. In a recent letter to Obama, the runner-up for the Worst President in American History award requested that the current holder of that title officially "grant American diplomatic recognition to the state of Palestine" before leaving office on January 20.
Then there's the amnesty issue. A group of 60 Congressional Democrats also wrote a letter to Obama requesting a "blanket pardon" for over 750,000 DREAMers–you and I know that it's more like millions–currently protected by his executive order known as the Deferred Action for Childhood Arrivals (DACA). While even Obama admits that a blanket pardon fails to grant citizenship, the authors of the letter make it clear that it would put them on the path to realizing that goal.
By the way, it was just yesterday that I shared with you how Trump was caving on his pledge to fix the illegal immigration problem. In his TIME magazine "Person of the Year" award interview, he stated that his administration would work something out for DREAMers that will make people "happy and proud." If Obama fails to grant the request of his fellow Democrats, the new Democrat with an "R" after his name entering the White House can take care of it.
Or maybe Trump's bromance with Obama will result in a new partnership–Trump "loves" Obama's input–where they work together to make it happen.
Either way, it looks like some bad stuff is about to happen before January 20.
Originally posted at The Strident Conservative
David Leach is the owner of The Strident Conservative, your source for opinion that's politically-incorrect and always "right." His articles can also be found on RedState.com.
His daily radio commentary is nationally syndicated with Salem Radio Network and can be heard on stations across America.