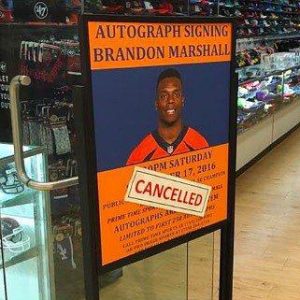 When Colin Kaepernick openly displayed his Black Lives Matter inspired ignorance by choosing to sit on the bench during the National Anthem prior to a preseason game against the Green Bay Packers, little did we appreciate how contagious politically-correct stupidity can be.
Other players have joined in the pro-Black Lives Matter protests, and it has received the blessings of Roger Goodell–the "G" stands for gutless–Barack Obama, liberals in the entertainment industry like Bruce Springsteen, and big businesses like AT&T.
The protests haven't been without consequences. Players have lost endorsement deals, and according to a recent Rasmussen poll, TV viewership of NFL games have been plummeting as a result of the #BoycottNFL movement. As expected, this is starting to affect the pocketbooks of the networks.
Unfortunately, in today's world of public-school-educated derelicts, the anti-National Anthem movement has spread to high schools and colleges; proving conclusively, as Robert A. Heinlein once said, that we should "never underestimate the power of human stupidity." However, while the NFL boycott may or may not make a difference, Jeff Andrulonis, the CEO of 17 radio stations, took a risky stand against the politically-correct movement following a recent incident involving East Carolina University.
Several students of the university desecrated the National Anthem on October 1 when members of the marching band refused to even play the anthem while others took a knee; behavior that met with a chorus of boos from the fans, and requiring a security escort to get the band out of the stadium.
Mr. Andrulonis broadcasts Eastern Carolina University's games on his Fayetteville, NC station, but in protest of the actions taken by the marching band, he won't be doing so this weekend in support of the National Anthem and the soldiers serving in the military. Fayetteville is home to Fort Bragg.
"We are a small station in a small town and quite a few of my team members at WFAY are Army wives and several of them have husbands who are currently overseas. It got me thinking about how local radio and local radio stations should be responsive to their local communities.

"I thought it was the right thing to do – to stand up for the National Anthem and the American flag. I'm proud of our country and I'm proud of our soldiers – especially our soldiers from Fort Bragg."
Jeff Andrulonis and his team at Colonial Media are red-blooded American patriots and I hope that you click here to let these fine folks know how much you appreciate their decision to stand up for the Armed Forces of these great United States (H/T Todd Starnes).
Liberals claim these protests are constitutionally-protected free speech, and they're wrong. The Constitution protects free speech against the government while employees and students are subject to the speech restrictions of their employers and administrators as a matter of personal conduct policies.
In today's constitutionally-ignorant, politically-correct America, ruled by cowards in business and government, protesting the National Anthem serves as the substitute to true constitutional liberty.
Originally posted at The Strident Conservative
David Leach is the owner of The Strident Conservative, your source for opinion that's politically-incorrect and always "right." His articles can also be found on RedState.com.
His daily radio commentary is nationally syndicated with Salem Radio Network and can be heard on stations across America.