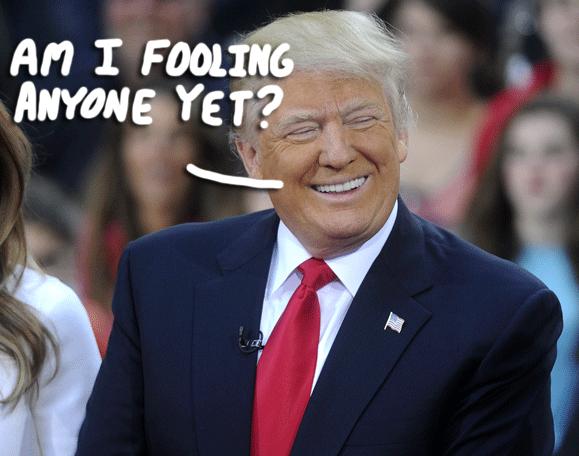 What a difference a few days can make. The Donald Trump campaign can be almost Reaganesque one day, and a couple of days later can be the reincarnation of the John Kerry 2004 campaign–being for something before being against it.
Every Good Friday, I feature a video based on a sermon by S.M. Lockridge called "Sunday's Comin'." In this short but succinct message, Lockridge reminds us that no matter what we see on Good Friday, things will be different on Sunday. After witnessing Trump's promise, for the second time in nearly as many weeks, of a future "softening" on illegal immigration, I was inspired to write my own version of Lockridge's sermon to describe what we are witnessing this election season in the Trump campaign.
Immigration. Trump is promising. Kellyanne Conway is sleeping. Mike Pence is defending. but the softening is coming.
Immigration. Sean Hannity is blaming. Ann Coulter is struggling. FOX News is snuggling. They don't even know that the softening is coming.
Immigration. The Trumpettes are following like lemmings off a cliff. The Republic is crying. Stephen Bannon is denying. But they don't know that the softening is coming.
Immigration. The alt-right beat my Conservative brethren. They labeled us the establishment. They shred the Constitution. But they don't know that the softening is coming.
Immigration. See Trump flying to Mexico. His sweat dripping. The wall is crumbling. And his narcissistic personality burdened. But you see, it's only illegal immigration. A softening is coming.
Immigration. Hillary is winning. Evangelicals are sinning. And Trump is grinning.
Immigration. Trump's disciples are questioning. What has happened to their king? And the GOP is celebrating that their scheme has been achieved. But a softening is coming.
Immigration. The GOP leaves Trump hanging. He calls the system rigged. The polls continue to predict he will lose. Will his third campaign shakeup save his campaign? Ooooh, it's immigration and a softening is coming.
Immigration. Trump's world is trembling. His prospects grow dark. The Donald yields to no one.
Immigration. The deportation force is lost. Liberals have won. Political reality has conquered. And Hillary's just a-laughing.
Immigration. Promises are buried. Trump's inner circle stands guard. And plans for Trump TV are rolled into place.
But it's immigration. It's only a campaign promise made to steal your vote. And a softening is coming.
When it comes to Donald Trump's position on immigration, one thing is perfectly clear. Regardless of what he says about it today, remember that a softening is coming.
Originally posted on The Strident Conservative
David Leach is the owner of The Strident Conservative, your source for opinion that's politically-incorrect and always "right." His articles can also be found on RedState.com.
His daily radio commentary is nationally syndicated with Salem Radio Network and can be heard on stations across America.