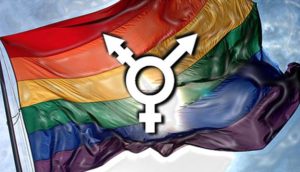 While the attention of most Americans has been on the Republican and Democrat conventions, the Gay Mafia has been scoring major victories in the culture war against American values and traditional Judeo-Christian morality, starting on the final day of the Republican National Convention.
On the last day of the Trump coronation, the RNC showed America how little it cares about social issues when it gave the stage to Donald Trump's good friend, PayPal co-founder Peter Thiel. Despite claims by Trump campaign manager, Paul Manafort, that Thiel was there to support Trump the business man, the self-proclaimed homosexual used his stage time to promote so-called equality while bashing Christians and others who object to the LGBT agenda for launching a "fake culture war."
"… Now we are told that the great debate is about who gets to use which bathroom. This is a distraction from our real problems. Who cares?

"Of course, every American has a unique identity. I am proud to be gay. I am proud to be Republican. But most of all, I am proud to be an American. I don't pretend to agree with every plank in our party's platform; but fake culture wars only distract us from our economic decline, and nobody in this race is being honest about it except Donald Trump."
He got a standing ovation. When Trump later gave his acceptance speech, he committed himself to gay rights and it drew cheers too — prompting him to stray from his prepared speech to acknowledge the crowd's affirmation:
"I have to say, as a Republican, it is so nice to hear you cheering for what I just said. Thank you,"
Besides the underhanded slap at Christians about fake culture wars, Thiel lied about his "who cares" attitude about the transgender bathroom wars–Oops, I forgot that culture wars are fake. The company he co-founded cancelled plans to open a global operations center in Charlotte, NC following passage of a law that prevented men and boys from using the same bathroom as little girls and women.
Speaking of North Carolina, the National Basketball Association served as hitmen for the Gay Mafia when Commissioner Adam Silver announced a few days ago that the league would be pulling the All-Star Game from Charlotte in 2017 due to the bathroom law because the NBA is committed to the sexual abuse of women and children. Just like Barack Obama.
Speaking of sports, the National Collegiate Athletic Association (NCAA) has enlisted in the Gay Mafia. The Board of Governors has introduced a rule that requires cities and campuses looking to host championships to allow athletes to use the bathrooms and locker rooms of their choice. In addition, cities and campuses will also be required to fill out a questionnaire disclosing any laws about bathroom and locker room choices for anyone who attends such events, including: athletes, coaches, staff and fans.
Fake culture war? The war against American culture is real, and the Gay Mafia representing the LGBT radicals are winning.
Originally posted on The Strident Conservative
David Leach is the owner of The Strident Conservative, your source for opinion that's politically-incorrect and always "right." His articles can also be found on RedState.com.
His daily radio commentary is nationally syndicated with Salem Radio Network and can be heard on stations across America.