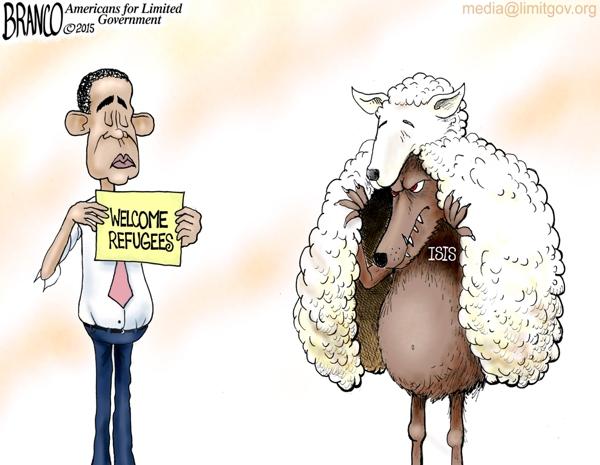 Do you remember how, following last year's elections, the new Republican majority led by [mc_name name='Sen. Mitch McConnell (R-KY)' chamber='senate' mcid='M000355′ ] and [mc_name name='Rep. John Boehner (R-OH)' chamber='house' mcid='B000589′ ] was going to use the budget to stop Obama's executive amnesty plan? Do you also remember how they caved, fully funding the unconstitutional plan?
Do you also remember a few months ago, following the release of undercover videos showing how Planned Parenthood was illegally harvesting aborted babies for body parts, how the RINO leadership committed to defund them? Do you also remember how McConnell caved and advanced a spending bill that fully funded the baby butchers?
Well, get ready America! Despite all the tough talk by [mc_name name='Rep. John Boehner (R-OH)' chamber='house' mcid='B000589′ ] 2.0 (aka [mc_name name='Rep. Paul Ryan (R-WI)' chamber='house' mcid='R000570′ ]) and other GOP leaders about Syrian refugees and the need for better screening, the next cave is scheduled to take place on December 11, 2015. That's the day that the House is scheduled to vote on an omnibus budget bill that will fully fund Obama's refugee resettlement program.
Nearly half of the nearly 85,000 refugees will be coming to America from countries with active jihadist movements, including Syria, Somalia and Iraq just to name a few. However, the nationalities of these people will be concealed in most cases until after they arrive in the more than 180 cities and towns across the U.S.
Now, I know what you're thinking. You're thinking that the America SAFE Act passed two weeks ago in the House, which called for a "pause" in the resettlements until the White House provided assurances that the refugees had been properly vetted, took care of any security concerns. Right?
Well, just like amnesty and abortion before it, that worthless piece of legislation served only as a setup for the next broken promise because the SAFE Act doesn't stop a single refugee from arriving in any of those 180 cities, according to [mc_name name='Sen. Jeff Sessions (R-AL)' chamber='senate' mcid='S001141′ ] (R-AL), who chairs the Senate subcommittee on immigration and the national interest.
Sessions released the following statement addressing the refugee program, and Obama's infatuation with illegal alien women and children from Central America:
"This year's appropriations bills – which will be combined into a catch-all 'omnibus' by Dec. 11 – amount to a blank check for the President to carry out his refugee resettlement plans [as well as to]: fund the continued placement of illegal aliens from Central America into U.S. communities; continue federal funding for 'sanctuary cities'; allow for the continued operation of the President's 2012 executive amnesty program; and [could also] include a huge expansion of the H-2B foreign worker visa program.

"The President's annual funding requests are just that: requests. It is the exclusive and sole constitutional prerogative of Congress whether or not to accept his requests, reject them, or impose whatever conditions Congress deems proper on behalf of taxpaying Americans.

"Now is the hour of choosing for Congress; will we surrender – funding Obama's entire immigration agenda – or will we assert Congress's power on behalf of the interests of the American people?"
Unfortunately, based on the long track record of broken promises by the faux leaders in the Republican party, we probably know the answer to that question. Don't we?
The Constitution gives Congress the "power of the purse" to keep the Executive branch under control. But with a firm commitment to avoid any of the negative consequences that type of leadership requires, Obama's transformation of America will continue.
Posted on The Strident Conservative
David Leach is the owner and publisher of The Strident Conservative, where you will find news and opinion that's politically-incorrect and always "right." He is also a frequent contributor at RedState.com.
His political commentaries can be heard daily on KLZ560 AM at 5pm MST and on other Crawford Broadcasting stations throughout the day.