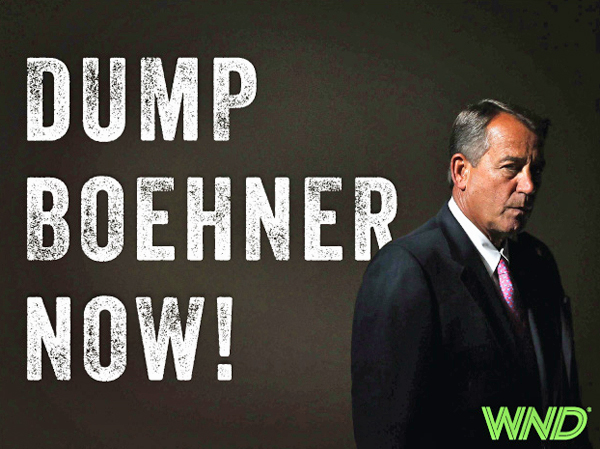 Last week, we learned about a motion filed by [mc_name name='Rep. Mark Meadows (R-NC)' chamber='house' mcid='M001187′ ] (R-NC) to remove [mc_name name='Rep. Nancy Pelosi (D-CA)' chamber='house' mcid='P000197′ ]'s favorite Republican, [mc_name name='Rep. John Boehner (R-OH)' chamber='house' mcid='B000589′ ], from his perch as Speaker of the House. At the time, many within the party establishment wrote off the effort by Meadows as the nonsensical vagary of the radical right-wing; unworthy of serious consideration because, after all, the votes to kick his sorry butt to the curb didn't exist. Right?
Well, as Lee Corso of ESPN College Game Day would say, not so fast my friend. In a new exclusive report on Breitbart.com, we learned that Boehner lacks the votes to keep his job.
Boehner had planned to call up the measure to the House floor last week with the intention of embarrassing Meadows when the "inevitable" outcome of the vote came down in his favor, but scuttled the idea after his entire leadership team learned that they didn't have the votes to re-elect the Gutless On Principles (GOP) Hall of Shame member.
But that doesn't let Johnny-boy off the hook.
When the August recess is over, Meadows—or any other member—can offer the motion to vacate the chair and remove Boehner as Speaker of the House as a privileged resolution, which means it gets a floor vote in full without the consent of Boehner's leadership team. This means the Speaker is extraordinarily vulnerable, and his conservative opposition could make a move whenever and/or wherever they want to—and when they have the votes to remove him from office.
A leader in the Conservative movement stated that Americans looking for new leadership can pressure their congressmen and congresswomen to issue public statements pledging to vote against Boehner if and when a vote comes up.
"Over the next five weeks, if enough grassroots conservatives can voice their frustration with a failed status quo and failed leadership of [mc_name name='Rep. John Boehner (R-OH)' chamber='house' mcid='B000589′ ]—as members attend town hall meeting after town hall meeting—and when they come back it will be more difficult for [mc_name name='Rep. John Boehner (R-OH)' chamber='house' mcid='B000589′ ] to keep his Speaker's gavel."
So, I'm issuing a challenge to my readers and listeners to attend these town hall meetings to make sure your Republican congressmen and congresswomen—Democrats support Boehner, which tells you all you need to know about his leadership—know where you stand on dumping [mc_name name='Rep. John Boehner (R-OH)' chamber='house' mcid='B000589′ ].
And I'm calling out my congressman, [mc_name name='Rep. Ken Buck (R-CO)' chamber='house' mcid='B001297′ ]. He's been all over the internet proclaiming his recent 100% Conservative Rating by Heritage Action. Now it's time to put your credentials where your mouth is by making the commitment to dump Boehner.
We don't have to wait until 2016. We can do this right now!
Posted on The Strident Conservative
David Leach is the owner and publisher of The Strident Conservative where he is proudly politically-incorrect and always "right."
His political commentaries can be heard daily on KLZ560 AM along with other Crawford Broadcasting stations, and he is frequent on-air guest host for Crawford Broadcasting programs.
Contact him at [email protected]