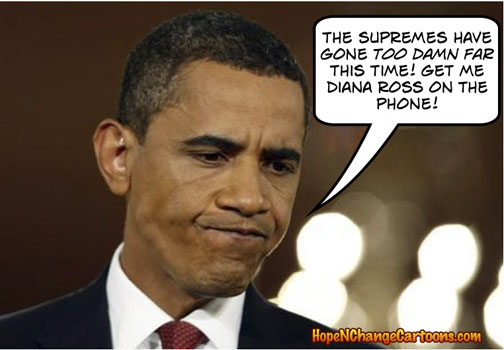 The Democrats have now suffered two consecutive free speech defeats before the Supreme Court. In both cases, liberals wanted to control the money individuals (McCutcheon vs. FEC) and corporations (Citizens United vs. FEC) could contribute to political campaigns; and as we all know, nothing upsets a Democrat more than too much money for an election—unless it's coming from George Soros.
You would think that politicians on both sides of the aisle would embrace the court's commitment to protect the Constitution, but you would be wrong. Senate Democrats plan to vote this year on a constitutional amendment sponsored by Sen. Tom Udall (D-N.M.) that would overturn these two court cases.
Free speech be damned!
"The Supreme Court is trying to take this country back to the days of the robber barons, allowing dark money to flood our elections. That needs to stop, and it needs to stop now," said Senate Rules Committee Chairman Charles Schumer (D-N.Y.), who announced the plan. The only way to undo the damage the court has done is to pass Senator Udall's amendment to the Constitution, and Senate Democrats are going to try to do that," he said.
Liberals won't even consider a balanced budget amendment, but if they can silence your criticism of them, why not? Sadly, this is just the latest evidence that liberals care less about America than they do about protecting their position and power in Washington.
But these liberals aren't alone in their efforts. There are Republicans who want to kill free speech as well.
John McCain (R-INO-AZ) co-authored the McCain-Feingold

Bipartisan Campaign Reform Act

—the law that prompted the Citizen's United case—which prohibited political free speech within 30 days of a primary and 60 days of a general election.

In a move resembling Germany's Joseph Goebbels

, Lindsey Graham (R-INO-SC) supported the Schumer and Feinstein inspired "

Media Shield

" law that would limit the free speech rights of bloggers while protecting "legitimate" media.
Is it just me, or do you also find it an interesting coincidence that McCain has been censured by the Arizona G.O.P., and Graham is facing a serious primary challenge?
These examples aren't meant to be all-inclusive, but as you can clearly see, there are folks in Washington from both parties, in every branch of government, who are willing to take our Constitutional rights from us in order to protect their powerful jobs.
I close with a quote from President Harry S. Truman, taken from his Special Message to the Congress on the Internal Security of the United States ( August 8, 1950):
"Once a government is committed to the principle of silencing the voice of opposition, it has only one way to go, and that is down the path of increasingly repressive measures, until it becomes a source of terror to all its citizens and creates a country where everyone lives in fear."
Chuck Schumer has made just such a commitment, and sadly for America, he's not alone.
Posted on The Strident Conservative