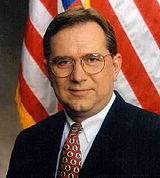 Steve Stockman-TX Congressional District
Fellow Conservatives at RedState,
On July 31, 2012, we will be watching as the live results come in from Texas with a lot of anticipation and hope. We will be watching to see if the Conservative Ted Cruz will be the next senator from Texas (or the RINO David Dewhurst…let's hope not!).
But there is another important race happening in the state. This race is in Texas' 36th Congressional District. Former Congressman Steve Stockman is running for congress against Stephen Takach.
Elected in the 1994, Congressman Stockman fought hard for less spending and a better America. He voted to cut taxes, his own pension and pay, and he NEVER asked for one single earmark.
His record proves it: National Taxpayers Union (still a strong conservative organization—the Club for Growth of that day) gave him As for his whole term.
He is a strong friend of social conservatives as well: strongly pro-life and supports the sanctity of marriage (shown by his vote for DOMA).
He also has received the endorsement of strong conservatives: Congressmen Louie Gohmert and Dana Rohrabacher, Former Congressman Tom Tancredo, Gun Owners of America, Citizens United PVF, and many more! Republicans, Libertarians, Constitution Party members ALL support him.
To conclude this post about my support for him, I think that the best way to show his strong friendship with us Conservatives, is to let you here from him. Here is what he says: ""I don't understand the debate in some Republican circles about personal liberties. Americans – in our case citizens of the State of Texas, have rights that no foreign or domestic entity can take away. Those rights are enshrined in our state and national Constitutions. To think that someone – anyone – can wipe away your right to a trial, your right to your firearms, your right to free speech, or any other right by decree is anathema to freedom. I'll stand up to the EPA, the FDA, even the PTA, to defend them to my last breath…" – Steve
Here is his webpage: Steve Stockman for Congress 2012!
Please donate here: https://rally.org/congressmanstevestockman/donate
On to a CONSERVATIVE Victory in 2012! We WILL take our country back.
(One additional note: Please continue supporting Kerry Bentivolio for Michigan 11 and Rep. Allen West for Florida 18.)