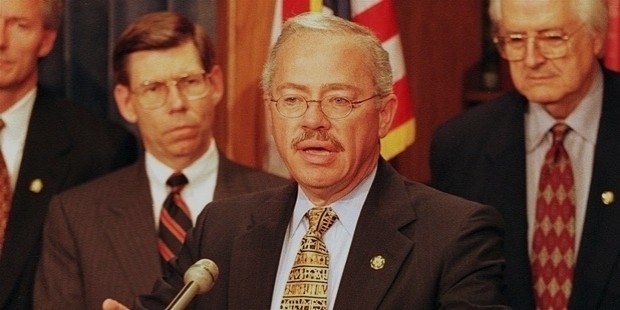 President Trump should nominate Bob Barr to replace James Comey as Director of the Federal Bureau of Investigation.
Your last memory of Bob Barr is probably that of his 2008 presidential campaign as the Libertarian Party nominee.
But Barr's experience and qualifications, while not well known, make him an excellent fit for the open position.
After earning an M.A. in International Relations from George Washington University and J.D. from Georgetown University Law Center, Barr took a job with the CIA in the 1970s, where he worked for eight years.
In 1986, Barr was appointed by President Reagan to serve as the U.S. Attorney for the Northern District of Georgia, working in that capacity until 1990.
From 1995 to 2003, Barr represented Georgia's 7th District in Congress. While in Congress, Barr earned a reputation for being a bulldog-a Trey Gowdy of his time-and was an influential player in the Waco hearings.
During his tenure in Congress and since as a public columnist, Barr has been an ardent defender of the Constitution; privacy, gun ownership, due process, and civil liberties. As FBI Director, Barr would ensure that the agency would not engage in unconstitutional infringements of the Bill of Rights. In 2003, Barr testified to Congress that:
There remains time to turn back the constitutional clock and roll back excessive post-9/11 powers before we turn the corner into another Japanese internment or, closer to our own experiences, before we witness a legally sanctioned Ruby Ridge or Waco scenario."
No doubt, the deep state would oppose Barr-and that is a good thing.
Read Barr's criticism of the FBI "Peek Squad" here.
Nobody can accuse Barr of being a partisan hack. While currently a nominal Republican, Barr is unquestionably an independent thinker. He has always had a mind of his own, with a strong ability to articulate his beliefs in speech and writing.
Based on his strong federal law enforcement background, his experience as a high ranking federal attorney, and his tenure in Congress, there is no question that Bob Barr is qualified for the job. Free of personal and party loyalties, Barr would be able to seek justice without prejudice and restore public confidence in the FBI.
Bring him in for an interview, President Trump.