If you're becoming nauseous or you're staying up late worrying about the inevitability of a Donald Trump nomination, you can start to rest easy.  On the other hand, if you're giddy and elated over the possibility of Donald Trump becoming the GOP nominee, you may want to temper your enthusiasm.
Larry Sabato's Crystal Ball analysis from August 13th sheds some light and some reality on the potential Donald Trump coronation.
Trump is apparently so unique to the Presidential race that the Center for Politics created a special category or designation just for him.  From the Center's Crystal Ball:
---
 Donald Trump is so special that we've created a category (and perhaps a word) just for him in our Republican presidential rankings: "The Un-Nominatable Frontrunner."
Trump's tier has partial precedents. Remember when then-Rep. Michele Bachmann (MN), businessman Herman Cain, and former Speaker of the House Newt Gingrich led national and/or early state polls at various times in the 2012 cycle? There was no way that any of the trio was going to end up as the Republican nominee for president. You could say the same about former New York City Mayor Rudy Giuliani in the early stages of the 2008 election.
Friends, this is also true today for The Donald. Or perhaps we should say: If Trump is nominated, then everything we think we know about presidential nominations is wrong.
---
Sabato goes on to emphasize presidential nominations tend to follow certain "rules."
A nominee has to have backing from the party "elites."  Large donors, people in leadership positions, etc., are staying as far away from Trump as possible.  Even people or organizations outside of the establishment are down on Trump, such as the Club for Growth and our own Erick Erickson, who dis-invited Trump from the RedState gathering.
A nominee has to have a well-layered or structured organization.  Sabato describes Trump's organization as having "a seat-of-the-pants feel to it, with the candidate relying on his easy access to TV anchors and reporters who are always eager to air Trump's latest stream of consciousness," while throwing his organization together on the fly.
A nominee has to display some sense of discipline, with a firm grasp or understanding of the issues. As demonstrated in the first debate and on the campaign stump, Trump has demonstrated little of this, which will catch up to him sooner or later.
Finally, voters tend to become more cautious and thoughtful as primaries and real elections become closer. Answering a poll question early in the campaign is entirely different than casting a ballot.
Also, as shown below, the true attention span of the voters is never on full display for presidential campaigns in the early stages.  As Sabato reminds us, (if history is any indication) very few people are paying attention to politics right now.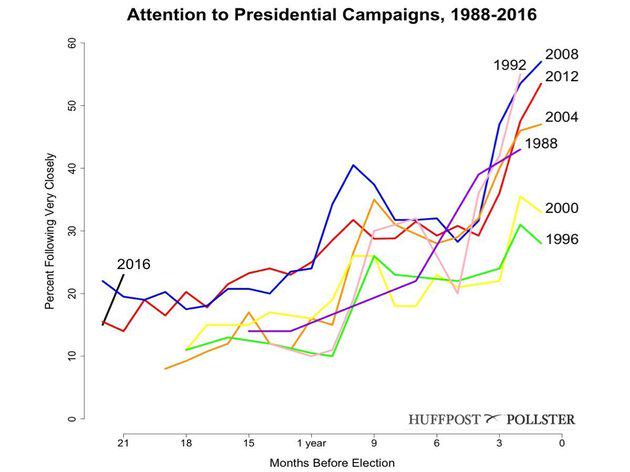 The final conclusion:  No question Trump is the current frontrunner.  Will he become the Republican nominee for President?  Highly unlikely…..