I realize this diary is a week late. I was going to write it last weekend, but decided to wait until the recent unpleasantness had passed
Two years ago I wrote a general diary about the internment of Japanese during WWII. I think it's an important subject to revisit from time to time. Tyranny is always lurking at our doorstep, and will find his way in if we fail to work to keep him out.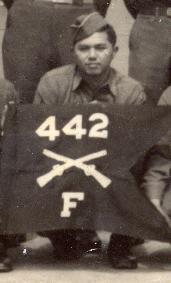 This year I decided to share the story of the SSgt Kazuo Masuda of Santa Ana, California. SSgt Masuda was a member of the 442nd Regimental Combat Team, the most decorated unit in U.S. history, having received seven Distinguished Unit Citations.
SSgt Masuda's father was arrested on Dec. 7, 1941. He and the rest of the Masuda family were interned in Jerome Relocation Center, Arkansas and Gila River Relocation Center, Arizona until July 19, 1945; more than a year after their Kazuo was killed in action. He received the Distinguished Service Cross for his heroic actions. He was a second-generation Japanese American U.S. citizen, or nisei as they were referred to at the time.
By direction of the President of the United States, under the provisions of the Act of Congress, the Distinguished Service Cross is awarded posthumously to Staff Sergt. Kazuo Masuda, Infantry, United States Army, for extraordinary heroism in action on 6 July, 1944, near Molino a Ventoabbato, and from 27 to 28 August 1944, on the Arno river near Florence, Italy.

On 6 July, 1944, while his advanced observation post was the target of heavy mortar and artillery barrages, Staff Sergeant Masuda crawled 200 yards to the mortar section, secured a mortar tube and ammunition, and returned to the observation post. Using his helmet as a base plate, Staff Sergeant Masuda single-handedly directed effective fire upon the enemy for 12 hours, inflicting heavy casualties and repulsing two major enemy counter-attacks.

On 27 August, 1944, Staff Sergeant Masuda voluntarily led two men on a night patrol across the Arno river and through the heavily-mined and booby-trapped north bank. Hearing movements to his right he ordered his men to cover him while he crawled forward and discovered that a strong enemy force had surrounded them. Realizing that he was trapped, he ordered his men to withdrawal while he boldly engaged two enemy automatic weapons. At the sacrifice of his life, he enabled his comrades to escape with valuable information which materially aided the successful crossing of the Arno river.

The gallant heroism and selfless devotion to duty of Staff Sergeant Masuda exemplify the finest tradition of the Infantry of the Army of the United States. Presentation is made to his next of kin, his sister, Mary Masuda.
After the family was released, Mary moved to Orange County, only to be threatened when she arrived. Later that year, she was presented with SSgt Masuda's Distinguished Service Cross by General Joseph W. (Vinegar Joe) Stilwell. Later, at a rally in his honor, Gen Stilwell said,
The Nisei bought an awful big hunk of America with their blood. Those Nisei boys have a place in the American heart, now and forever. We cannot allow a single injustice to be done to the Nisei without defeating the purpose for which we fought…

Who, after all, is the real American? The real American is the man who calls it a fair exchange to lay down his life in order that American ideals may go on living. And judging by such a test, Sergeant Masuda was a better American than any of us here today.
Then Army Captain Ronald Reagan had this to say,
Blood that has soaked into the sands of a beach is all of one color. America stands unique in the world, the only country not founded on race, but on a way–an ideal. Not in spite of, but because of our polyglot background, we have had all the strength in the world. That is the American way. Mr. and Mrs. Masuda, just as one member of the family of Americans speaking to another member, I want to say for what your son Kazuo did, thanks!
The struggle continued later in 1948 when his remains were returned. The family wanted him to be buried at the Westminster Memorial Park cemetery in Orange County, but restrictive covenants barred anyone not of Caucasian ancestry. He was finally allowed to be buried there after significant pressure from government and other organizations.
We enjoy our freedom today thanks to men like SSgt Kazuo Masuda who fought even as his own family had their freedoms taken away. We must always remember how fragile that freedom is, and how we will constantly have to fight against forces, both internal and external, that want to take it away.