From the diaries by Erick. This is MASTERFUL.
Update: I was interviewed by Amy Oliver at KFKA 1310, an AM Talk Radio station in Greeley, Colorado about this diary. You can listen to the archive here. I also plan to update the section on the Governor's race in the near future now that Bill Ritter has announced he is no longer going to seek re-election.
Colorado is a beautiful and diverse state with a rich and vibrant history. The landscape varies from the corn fields on the Eastern Plains to the Rocky Mountains which boast 50 fourteeners (mountains over 14,000 ft. elevation), to the lush green Western Slope. It was from the top of one of those fourteeners, Pike's Peak (from the top of which on a clear day you can see twelve states), that Katharine Lee Bates wrote,
O beautiful for spacious skies,
For amber waves of grain,
For purple mountain majesties
Above the fruited plain!
Colorado's history dates back at least to the Anasazi of Mesa Verde. The Overland Trail went through Colorado. Just northwest of Fort Collins, wagon ruts can still be seen. This pioneering spirit still lives in many within the state. Colorado is rich with natural resources, including minerals, shale oil, and natural gas. Farming and ranching are still large industries here. Our ski resorts are famously known, possessing some of the best powder in the world. Colorado sits along the Continental Divide, and for this reason water is our most precious resource. The rivers that flow from Colorado provide water for a number of other states.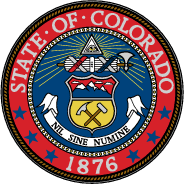 Colorado's political landscape is unique, in that it is a microcosm of voting behavior of the nation as a whole, usually leading the national trends. When I moved here almost ten years ago, the Governor's Mansion, both U.S. Senate seats, five of seven U.S. Congressional seats, and both State Senate and House chambers were controlled by Republicans. Today, the situation is completely reversed and the Democrats are in control. Fortunately, due to the Democrats' mismanagement in Washington and Denver, we have the opportunity to turn the tide back in our favor. Colorado is a frequent battleground for political groups trying to sway the state one direction or the other.

As in the rest of the nation, there has been a considerable backlash against the policies of the new Democrat-controlled Administration and Congress, primarily in the area of out-of-control spending and loss of personal liberty. Tea Party, 912 Project and Liberty On The Rocks groups have seen a continual increase in membership. Members of these groups include Republicans, Libertarians, conservatives, independents, and even some anarchists–all concerned about the direction our government has taken and wanting to see things change. Whether or not this activism will be able to be harnessed into actual votes in the ballot box remains to be seen.
Voter registration in Colorado matches the national trends, where Republicans, Democrats, and Unaffiliateds each make up approximately one-third of the total. Detailed voter registration numbers follow, showing active and inactive voters, as well as county-by-county numbers. In summary, there are more registered Democrats, but more registered Republican voters are active. Like the rest of the nation, the Democrat voters are concentrated in the urban areas.
Voter Registrations as of 10/1/2009
| | | | | | |
| --- | --- | --- | --- | --- | --- |
| | Democrats | Republicans | Unaffiliateds | Libertarians | R vs. D Diff |
| Active | 868,704 | 874,175 | 775,723 | 9,018 | 5,471 |
| Inactive | 189,706 | 174,234 | 299,730 | 2,740 | 15,472 |
| Total | 1,058,410 | 1,048,409 | 1,075,453 | 11,758 | 10,001 |
| | | |
| --- | --- | --- |
| | Registered Voter Diff | Active Voter Diff |
| Adams County | 26,268 | 21,191 |
| Arapahoe County | 8,134 | 4,889 |
| Boulder County | 47,345 | 42,501 |
| Denver County | 132,302 | 104,450 |
| Douglas County | 47,611 | 42,059 |
| El Paso County | 73,752 | 66,668 |
| Jefferson County | 7,351 | 5,073 |
| Larimer County | 12,944 | 10,362 |
| Mesa County | 20,414 | 17,482 |
| Pueblo County | 23,835 | 19,249 |
| Weld County | 16,411 | 14,663 |
A recent Rasmussen poll shows that there are many voters unhappy with both parties and would prefer something new. This sentiment is also very strong in Colorado. One candidate was accused of trying to usurp the Tea Party Candidate moniker, only to be rebuffed. At the same time, there are still many entrenched in the old party apparatus who seem to want to continue the mistakes of the last several years. Due to internal and external influence, potential candidates have switched from one race to another, while others have simply dropped out altogether. Many supporters are frustrated with what has amounted to political campaign musical chairs. I plan to elaborate on these influences in the individual races discussed below.
U.S. Senate (D+0)
Mark Udall(D) defeated former Congressman Bob Schaffer(R) in 2008 and will not be up for re-election until 2014. He's so far been a fairly reliable progressive vote, going along with Harry Reid about 85% of the time. In a clear sign-of-the-times moment, he's suddenly concerned about the out of control spending going on in Washington right now. Well, not really. He's still playing the blame Bush game, and still thinks we can spend our way out of our problems, including a government takeover of 1/6th of the nations economy.
Michael Bennet (D) was selected by Governor Bill Ritter to take over the seat left vacant when Ken Salazar took the Secretary of the Interior position in Barack Obama's Cabinet. Bennet was a surprise selection by Ritter. Many expected Andrew Romanoff or Denver Mayor John Hickenlooper to be selected. Bennet has never been elected to public office before. Since taking office, Bennet has been a secure vote for Harry Reid, voting with Democrats 90% of the time. Every morning he has to check with Chuck Schumer before he can vote.
Andrew Romanoff recently announced his candidacy for this Senate seat in 2010 giving Bennet a serious primary challenger. Romanoff was considered the front-runner to be selected for this seat, but was passed over by Gov. Ritter. Although Romanoff hasn't been able to put up the kind of fundraising numbers that Bennet has, he will at worst be siphoning off money that Bennet could use against a Republican challenger in the General Election.
There are currently 10 Republican challengers for this seat (potential candidates in italics):
Steve Barton – Attorney
Ken Buck – Weld County District Attorney & Ex-Congressional Aide
Dan Caplis – Radio Talk Show Host, Attorney & Conservative Activist
Robert Greenheck – Physician & Vietnam War Veteran
Gary Kennedy – Water Conservancy District Manager
Vincent Martinez – Investor & '08 Candidate
Jane Norton – Ex-Lt. Governor, Ex-State Public Health/Environment Director & Ex-State Rep.
Cleve Tidwell – Businessman & USMC Veteran
Mark Van Wyk – Confectionery Distribution Company Owner
Tom Wiens – State Sen., Real Estate Finance Company CEO & Rancher
Until a few months ago this was considered a two-person race between Ken Buck and Ryan Frazier. While both candidates were gaining support from the grassroots and conservative base, they both also struggled to raise enough money to compete with the large sums being brought in by Michael Bennet. Then in August, there were some dramatic changes in the race. Rumors began to spread that former Lt. Governor Jane Norton was going to enter the race at the urging of John McCain, and possibly with the support of the NRSC. The backlash against the NRSC by local grassroots organizations was fast and loud, so much so that GOP chairman Dick Wadhams had to contact the NRSC to let them know that if they came out and officially endorsed Norton the grassroots would concentrate their efforts against her. Shortly thereafter, assurances were given that the NRSC would stay out of the race, though there was still evidence that individuals associated with the NRSC would still help raise money for her campaign. Eventually, this led to Ryan Frazier dropping out of the race and instead choosing to run for the House seat in CD-7. If you'd like further information into the history of this race, I suggest you search for Jane Norton and NRSC at the Peoples Press Collective.
Currently, the Republican front-runner in this race has to be Jane Norton. She's raised the most money, is seen by many as most likely to win, and is the preferred target for the opposition. If Ken Buck wants this seat, he's going to have to raise more money, and find a way to distinguish himself from Norton. Newer to this race is former State Senator Tom Wiens, who was originally considering a run for the Governor's seat. All three are currently polling ahead of Michael Bennet according to Rasmussen. Cleve Tidwell, a favorite of those who lean libertarian, has been in this race the longest, but most people here are still trying to figure out his strategy. Norton's Achilles heel could be her support while Lt. Governor for the suspension of TABOR, a referendum narrowly passed by the taxpayers in 2005 (Ref. C). This turned out to be the largest tax increase in the history of the State. Detailed fundraising numbers for all candidates can be found here.
Bottom line: This is Jane Norton's race to lose, though Ken Buck is still in the hunt in the primary. Jane's campaign co-chairs include former Governor Bill Owens, former Senators Bill Armstrong and Hank Brown, and former Congressmen Bob Beauprez, all of whom are still popular in Colorado. They also are well connected, which gives her campaign a significant advantage. Michael Bennet himself said he was willing to give up his seat to get healthcare reform passed, even though he doesn't like the bill. Unless something changes drastically, I expect this Senate seat to be picked up by Republicans in November.
U.S. House
Congressional District 1 (D+21)
The incumbent representing the greater Denver area since 1997 is Diane DeGette (D). DeGette is one of the most liberal members of the U.S. House of Representatives. She has a 100% rating from NARAL and a 0% rating from NRTL. She has raised $213,223 and has $84,296 cash on hand. There are no Republican challengers for 2010. She's spent quite a lot of her money already this cycle, but I honestly don't know on what. The FEC reports would show this, but it's beyond the scope of this diary. Democrat seats don't come much safer than this one.
Congressional District 2 (D+11)
Jared Polis is the incumbent Representative covering the People's Republic of Boulder and surrounding area. Polis had some unsuspected visitors at his not Town Hall meeting last summer, showing that people aren't happy with Congress' healthcare reform bill, even in more liberal areas. Even though this area is D+11, there's actually an outside chance that a libertarian-leaning Republican could succeed here under the right conditions.
The only Republican challenger is Stephen Baily. There are no fundraising numbers available for him at this time. This is a safe seat for the Democrats in 2010.
Congressional District 3 (R+5)
The Third Congressional District in Colorado includes the entire Western Slope as well as the Southern Plains area of the State. The largest cities in this district are Pueblo, Grand Junction, Montrose, and Durango. The incumbent since 2005 is John Salazar, brother of the current Secretary of the Interior and former U.S. Senator Ken Salazar. This district was last held by a Republican from 1993 to 2005 by Gubernatorial candidate Scott McInnis. Even though it is a Republican district, Salazar has had two fairly easy re-election campaigns. This is no surprise as Republicans struggled everywhere in the 2006 and 2008 elections. Fortunately for Republicans, the political climate is very different now.
Scott Tipton, who ran against Salazar in 2008 is running again, will likely fare better this time, though it's too early in the race to know where this one is going. Tipton just recently announced he was running again for this seat. Also running is Martin Beeson, though he's struggled for months to raise money, as well as Bob McConnell and Ray Scott who have raised nothing or next to nothing.
It's a little too early in the race to analyze this one. Right now I'd call it a Democrat hold, but that could change depending on how the political climate progresses during the next year. If the backlash against Democrats continues, and Tipton runs a good race, this could be a pickup for Republicans. I'll be looking more closely at this race as it develops, and will have more at that time.
Congressional District 4 (R+6)
The fourth Congressional District covers the northern Colorado Front Range, and all of the Eastern Plains. Its largest city is Fort Collins, home of Dan's Bake Sale, and the place I call home. This was a heavily targeted district by the Democrats in 2008, and they were successful in electing Betsy Markey. She's been trying to paint herself as a fiscal conservative, but voted for over $1.2 trillion of new spending in her first year, including Cap & Trade. She supported the stimulus bill. She co-sponsored the Card Check bill. Her only stand against her party on bills that matter was her vote against the healthcare reform bill. It's not like she listened to her constituents though. Perhaps she's been reading the polls? She's raised almost $1 million already, 40% of it coming from PACs. What people should be asking is, where did that money come from? She recently joined the Blue Dogs, in an attempt to make herself look more moderate, but her voting record shows she votes with her party 94% of the time.
There are currently four Republican challengers for this seat. They are:
Diggs Brown – Ex-Fort Collins City Councilman, Financial Advisor & Afghan War Veteran
Cory Gardner – State House Minority Whip, Attorney & Ex-Congressional Aide
Tom Lucero – University of Colorado Regent & Businessman
Dean Madere – Tea Party Activist & HVAC Contractor
The first candidate to announce in this race was Tom Lucero. With the backing of Hugh Hewitt, Lucero hoped that his early entrance into the race would give him an advantage, but has not been able to raise the kind of money to be competitive. He gave an impassioned speech at a Northern Colorado Candidate Search 2010 event, but it's going to take more than good speeches to take control of this primary race. Lucero also was in favor of Ref. C, something he'll have to overcome with fiscal conservatives in the district.
Next to announce was Cory Gardner. Gardner is from Yuma on the Eastern Plains. Cory has been a strong, solid voice in the Coloradans in the State House, and accomplished quite a lot as the Minority Whip in the CO House. Cory is well-liked in Denver and on the Plains, but will have to work hard to gain more name recognition in Larimer and Weld counties. He has been attending events regularly there, which will certainly help. Opponents have tried to paint him as a farm subsidy (welfare) supporter. While he has voted in favor of ethanol plants, as he stated at the Candidate Search 2010 event, he has never voted for handouts for farmers. Cory has been able to raise quite a lot of money already, but still trails Markey by a substantial margin. I had a chance to sit down with Gardner a couple of months ago for a short time, and have to admit I like what I hear from him.
Diggs Brown just recently entered the race after finishing his latest stint with the Army. A veteran of the war in Afghanistan, Diggs is a Green Beret and probably knows more about national security than just about anyone else. He's even stated how concerned he is about our nation's safety. Brown wrote a book about his first tour in Afghanistan. It's an excellent read, and I highly recommend it. Diggs' greatest political accomplishment has to be getting the transparency laws passed as a minority member of the Fort Collins City Council. This is exactly the sort of leadership needed in Congress today. His detractors note that he has little legislative experience, but I honestly can't think of anyone I'd rather go into a fight with (of any kind) than Diggs Brown.
Dean Madere, a Tea Party Activist, just recently joined the race. When asked why he decided to run, he replied,
I believe our country needs average citizens to serve in public office to succeed in bringing back the values of rugged individualism that made our country great.
Bottom Line: This is Cory Gardner's primary to lose. Gardner was featured as one of the NRCC Young Guns for a reason. He's the type of candidate we all dream of having represent us. Opposition attacks are usually a good sign that someone is leading the pack. Unless Diggs Brown shows that he's been able to raise a significant amount of money in a very short amount of time, he's unlikely to be able to compete with Gardner even in his own back yard. Whoever wins Larimer and Weld counties, will win this race. So far Tom Lucero has failed to raise sufficient funds and distinguish himself from the others enough to have a shot at this time. Dean Madere is too unknown and too late to the game to be much more than a footnote, though he'll get some sympathy votes from the Tea Party and 912 Project folks.
This race is a bit personal for me. Honestly, I like all three candidates (I've never met Dean). I really wish I could vote for them all, but politics is sometimes like prime-time television. It seems all the best shows are on different channels at the same time.
This should be one of the most contentious races in Colorado. If Betsy Markey can convince enough people that she's fiscally conservative and the tide turns back a little in the Democrats' favor, she could win re-election. More likely, the backlash will continue and this seat will go back to the Republicans.
Congressional District 5 (R+14)
Doug Lamborn is the Republican incumbent for this district. There are currently no Democrat challengers. This is a safe Republican seat.
Congressional District 6 (R+8)
Iraq army veteran Mike Coffman is the Republican incumbent for this district. There is one Democrat running for this seat, John Flerlage – Airline Pilot, Democratic Activist & Retired USMC Officer. From his issues page on taxes:
We must simplify the tax code and tax filing requirements. We must fund the IRS so that it can operate the government as a business and ensure that revenues are collected in a fair and just system.
I'll spare you having to read any more. He's running on a platform of supporting Barack Obama's policies, which won't go well in a district that has never elected a Democrat. Mike Coffman has been one of the bright spots in the 111th Congress, and has done a lot in his freshman year. This is a safe Republican seat.
Congressional District 7 (D+4)
Ed Perlmutter is the incumbent here. This seat has caused more frustration for Republicans in Colorado than any other. It was previously held by Bob Beauprez, who did not run for re-election due to his unsuccessful run for Governor in 2006. Since then, the GOP has struggled to find a good candidate to run against Perlmutter. You wouldn't think it would be hard to find someone to run against a guy who doesn't understand the Constitution. He's been a strong supporter of the healthcare reform bill that's made its way through Congress, even wanting to raise taxes to pay for it. Also noteworthy, Perlmutter is a local boy who has won some support from sympathetic Republicans on the west side of the district. It's hard to say whether that will change this time around. A search of his name at the Peoples Press Collective will give you other examples. If I didn't know better I'd say he's at least a cousin of Joe Biden.
Finally, in 2010, the GOP found their man, Ryan Frazier. Frazier was courted by the NRCC to leave his attempt at Michael Bennet's Senate seat, and run for CD-7. He dove headlong into the race, much to the chagrin of Brian Campbell, who at the time was the only candidate for CD-7, and who later dropped out of the race. Since then, several candidates have announced. There are currently five Republicans running for this seat:
Michael Deming – Mechanical Engineer
Ryan Frazier – Aurora City Councilor, Businessman & Navy Veteran
Jimmy Lakey – Concert Promoter, Ex-Radio Talk Show Host & Community Activist
Mike Sheely – Businessman, Engineer, Army Veteran & '94 State Rep. Nominee
Lang Sias – FedEx Pilot, Attorney, Iraq War Veteran & McCain Campaign Staffer
Lang Sias is a recent addition to the race, encouraged to run by John McCain. Sias is a former staffer of McCain's, who worked on his failed Presidential bid. To put it mildly, the grassroots pundits in Colorado are not happy with McCain sticking his nose in where it isn't wanted. Apparently encouraging Norton to enter the Senate race wasn't enough. What is it about McCain? Does he hate Ryan Frazier? Perhaps he still wants to take our water. It's not like McCain was popular in Colorado. If there's any question why former Democrat Lang Sias should not be the standard bearer for Republicans in CD-7, this should answer it. Sias said his goal is to run an inclusive campaign,
…to reach out to the great forgotten middle…
Frazier is definitely considered the front-runner in the primary, and has a very good shot at putting this seat back into Republican hands next year. He still needs to step up his fundraising efforts, as Perlmutter has a substantial lead. Although strict social conservatives might have a problem with his support for benefits for same-sex couples, his small-government, fiscally-conservative values are exactly what are needed here. Ryan has been endorsed by GOP party leaders, conservative grassroots activists, and moderate Hispanic business leaders. Frazier is one of only three candidates I've had the opportunity to meet so far, and I can say I've been very impressed with him. Although I never officially endorsed him in the Senate race, I would have no qualms about doing so in CD-7.
Bottom Line: This has a good chance of being a pickup for Republicans. Frazier's support among the grassroots and moderates is stronger than any other candidate, and this should put him over the top.
In a perfect world, we'll pick up three seats (CD-3, 4 & 7). More likely, we'll get two of the three, and the Senate seat. Anything less would likely mean the Republican Party hasn't shaken off its funk just yet, and it's likely that Obama will have two more years to implement his own brand of socialism.
Governor
Our current Governor is Bill Ritter, who convincingly defeated Bob Beauprez in 2006. He is running for re-election, though his current approval ratings makes this a wide-open race. Ritter's accomplishments so far include raising taxes and fees, even though Colorado requires a vote of the people to raise taxes due to our Taxpayer Bill of Rights (TABOR). For those wondering how he pulled this off, well it was easy. All you need are four liberals on the Colorado Supreme Court to rule that eliminating tax exemptions and raising fees aren't tax increases. See below for more on the Supreme Court.
The race among Republicans for the Governor's seat has been a wild ride so far. The list of candidates has seemingly changed almost weekly. The only constant in this race has been former State Senator and U.S. Congressman Scott McInnis. Early on in this race, Josh Penry, former aide to McInnis and current Colorado State Senate Minority Leader was a rising star. Penry was a darling of the grassroots activists. His polling numbers rose month by month, to the point that the McInnis camp was really starting to worry. Somewhere along the way threats of a 527 came out; and ultimately Penry, fearful of a negative campaign so early in his political career, dropped out of the race and endorsed McInnis. I couldn't possibly cover the complete history of these events in this blog. If you want more information, go to the Peoples Press Collective and search for McInnis and/or Penry.
After Penry dropped out there were several meetings between him and McInnis in an attempt to try to unify the Party and come up with a policy statement that would ease the minds of the activists that saw McInnis as a squish. The results of those meetings was a formal Contract with Colorado called the Platform for Prosperity:
Jobs, Jobs, Jobs: Returning Colorado to Prosperity

keep Colorado a low-tax state;
put a top priority on investing in physical infrastructure (roads, bridges and water systems) and our human infrastructure (higher education and workforce training);
pro-actively promote and encourage business investment and expansion in key Colorado job sectors;
oppose unreasonable regulations, fees and business mandates;
oppose efforts to weaken Colorado's medical malpractice or construction defects tort protections;
repeal the Ritter Administration's executive order unionizing state government;
appoint "pro-jobs" leaders to key government regulatory and oversight bodies.

Restoring Common Sense to Colorado's Budget

oppose the systematic campaign of Democrats to increase taxes, significant fees, levies and surcharges without a vote of the people;
restore the cap on state spending, and, until it is restored, oppose – and veto — spending above an annual 6 percent increase;
oppose those who would use Colorado's current budget challenges as a pretext to weaken taxpayer protections in the Constitution or in statute;
support the creation of a Rainy Day Fund that will cushion the effects of economic emergencies, but will not allow politicians to get access to merely fund pet projects.

Reforming Government and Challenging the Status Quo

undertake a comprehensive review of state government to identify and eliminate waste, fraud, excess and abuse, freeing up dollars to spend on core areas that benefit the economy;
conduct an evaluation of the state's boards, commissions and task forces and look for ways to achieve savings through consolidation.

More Energy, More Jobs: A Comprehensive Energy Policy

support legislation, and revisions to state rules, that will promote the responsible development of all sources of energy, including wind, solar, hydroelectric, oil, natural gas, coal and nuclear power;
appoint individuals to key energy regulatory bodies who view Colorado's energy resources as a strategic asset that, in balance with protecting the environment, can produce more energy for America and more jobs for Colorado.

Controlling Health Care Costs for Families and Business

support portability of coverage from job to job;
reinstate the former Republican Governor Bill Owens-era enforcement of the Constitutional ban on taxpayer funding for organizations that provide abortions;
support giving patients the right to purchase health insurance across state lines;
oppose efforts to roll back Colorado's landmark medical malpractice protections;
oppose any effort to bring single-payer healthcare to Colorado.

Improving Education and Expanding Opportunity

protect the rights of home school families;
expand school choice in the form of charter schools, magnet schools and for at-risk students in under-performing public schools;

Defending Citizenship and the Rule of Law

support a mandatory workplace verification mechanism that will assist employers in ensuring that their employees are in the United States legally;
oppose so-called "sanctuary" policies, which violate state and federal law;
work to block the award of state grant dollars to any local government enacting such a policy.

Pushing Back Against Growing Federal Power

end the Ritter Administration's early release program for criminals;
oppose any legislation that would curtail the Constitutional right to keep and bear arms;
support far tougher sentences for child sex predators;
Being an issues voter myself, I appreciate the efforts of McInnis and Penry to make clear the intentions and direction of the candidate to stop the liberal bleeding in the State, and protect the people against government intrusion. This also gives the voters a clear way to hold McInnis accountable should he stray from these principles.
The other Republican candidate in this race is Dan Maes. Dan is a businessman that has never been elected to nor held public office. With the departure of Josh Penry, Dan has seen an increase in support from the grassroots activists who were not willing to jump to supporting McInnis. Of all the races in Colorado, this one has created the biggest division of potential voters. With no political experience, Maes has been trying to feed off the hate for politicians in general, which is more popular this cycle. He does answer questions, which is more than I can say for his opponent at this point.
Bottom Line: Of all the potential Republican pickups, this one has the greatest potential for us to snatch defeat from the jaws of victory. Tea Party and other activists are still not yet sold on McInnis, even after several attempts to do so. McInnis is absolutely the front-runner here. Maes is a long shot, even though I have to admit I've found myself cheering him on after the shenanigans that went on with Penry. If the base and activists can rally behind the Republican candidate during the general election campaign, this race should be a pickup for Republicans. The Platform for Prosperity has the potential to be that rallying point. If, on the other hand, the new activists continue their fighting through the general and/or stay home and allow Ritter to pull it out, their influence, especially within the Republican Party, will be significantly reduced.
Colorado State Senate & House
It's still a little early to know details, but Ben DeGrow of Mount Virtus has an excellent analysis of how the Colorado Senate and Colorado House races are shaping up. I certainly couldn't do any better than what he's already done, so I leave his work for you to review.
Colorado Supreme Court
A political analysis of Colorado would not be complete without including what's been happening in our State's highest court. Like some on the U.S. Supreme Court, we have justices who would rather create law than interpret it. Court rulings recently have come down to redefining terms. It all depends on what the definition of tax is. Recent rulings by the Court include,
Grassroots activist Matt Arnold has started a movement called Clear the Bench Colorado to change the judicial makeup in 2010. Supreme Court justices in Colorado must be re-affirmed to retain their position. In 2010, four of the most liberal justices are up for a vote of the people. They are Chief Justice Mary Mullarkey, and justices Michael Bender, Alex Martinez, and Nancy Rice. If you ask people how they vote on judges, most will tell you that they don't vote either way since they don't have enough information to make an informed decision. Unless we remove these judges, it won't matter what laws are passed, they will simply be overturned by judicial fiat. The fact is, when it comes to higher courts, there's no such thing as impartial judges. We can't continue to allow the hard work of the legislature to be overturned by lawyers with an agenda and contempt for the rule of law.
Final Thoughts
I would be remiss if I didn't mention those in the Colorado blogosphere who helped me put this together with the use of all their hard work. The folks at the People's Press Collective and the Rocky Mountain Alliance of Blogs are the heart and soul of the center-right activist movement to help take back Colorado for those of us who champion liberty and small government principles. I made extensive use of Politics 1 and Open Secrets. For policy, there is none better than the Independence Institute. A special thanks to Ben DeGrow and my wife Janine for their help in editing and proofreading this article.
For those of you in Colorado who would like to get involved, I wrote a blog post earlier this year that is a sort of encyclopedia of information on Colorado politics. I called it Getting Connected in Colorado. I hope to update it before the end of the year with new information on activist organizations and political candidates, as well as general updates on information already there.
I did not include third-party candidates, even though the Libertarian Party has seen in an increase in popularity here, as they have elsewhere. Like the rest of the nation, there is an excellent opportunity in 2010 for Republicans to pick up seats in Colorado. The extent of those gains will be based largely on the success of Republicans to pull in the grassroots activists from the Tea Party, 912 Project, as well as all those in the base that decided to sit out the last two cycles.