Oh yeah…. I was hanging out with my best bud Sean Bielat today in Wellesley Mass.
We were campaigning together.
Me and him are tight.
It was a little meet and greet for people who wanted to meet the man who will knock off Barney Frank in the Ma. 4th CD
Wellesley ain't exactly a conservative town. That didn't stop us. Sean has the blue collar vote locked up and now he is trying to wittle down Barney's base at ground zero.
For those of you familiar with the area we were at the intersection of Rte. 9 and Rte. 16 which is just a stones throw away from Wellesley College and Regis College.
It was libtown baby.
When I arrived about 4:30 there was a nice little crowd going on and they all had signs and were waving to traffic.
Sean was there too in very good spirits.
As soon as I walked up I was immediately welcomed and someone said "Want a sign…?"
"You're damn skippy I do" I said. "Gimme' one of those puppies"
So there I was hanging out with the Seanmeister holding my sign and waving to the traffic.
It was pretty cool. I'm gonna' do it again on Saturday on Beacon St. in Newton.
I got to shake hands with Sean and I told him "Thank you for running".
He thanked me for my support.
Holding a Bielat sign in Wellesley Mass. is like being a Marine recruiter in Berkeley Ca.
Over all though we were getting some pretty good responses which was remarkable considering where we were.
Lot's of people were honking their horns and waving back to us.
An old lady was stopped in her car at the light and was looking over. We waved at her and smiled.
She flipped us the bird.
Another person just passing by as he was walking his two little lap dogs just starting screaming at Mr. Bielat for no good reason.
"BARNEY FRANK FOR CONGRESS" he screamed twice like he was about to set off a suicide belt. Then he shouted at Sean "You're a damn fool" as he dragged away his dogs.
It was hilarious.
The lefties are really really uptight for some reason.
Aren't they always though…?
Well that was my little report.
I gave a lot of money.
I have my lawn sign out.
I'm out holding signs and tomorrow I want to do some phone banking.
NeoKong is on the job out here in Fort Apache.
It's the least I can do for the guy is days away from doing all of America a super huge favor.
Enjoy the pics.
That is Sean in the light blue shirt.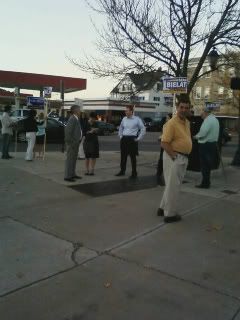 An interesting sign.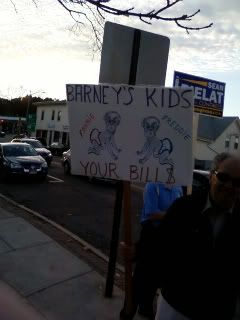 Some of the shock troops.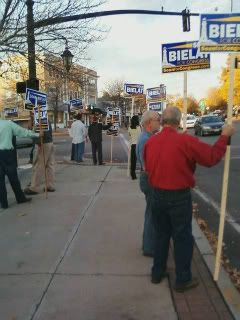 Sean again mixing it up with a supporter and his grand son.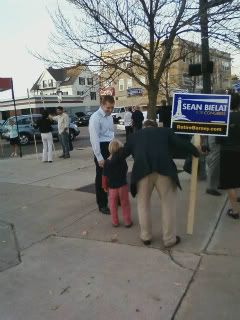 This is it people. We are coming down to the wire.
We are the people we have been waiting for.
What have you done today to push us all across the finish line. destroy the Democrat party…?