Not going to lecture anybody on this one: you either get it, or you don't. If you don't, then I regret whatever it was that cut that bit out of you, and I sincerely hope that you get better some day.
Aledo High seniors pick classmate with Down syndrome as homecoming queen

Never has the selection of a homecoming queen sent so many tears falling so freely.

Kristin Pass, an 18-year-old senior with Down syndrome, became Aledo High School's homecoming queen Friday to a joyous standing ovation and the flutter of a thousand tissues on a remarkable night for an amazing young woman.

Her grandfather, Dr. David Campbell of Corsicana, escorted her onto the field and gave her a quick kiss on the cheek as Kristin joined eight other young women in the Homecoming Court to await the results of the vote, cast by the 360-plus members of Aledo High's senior class.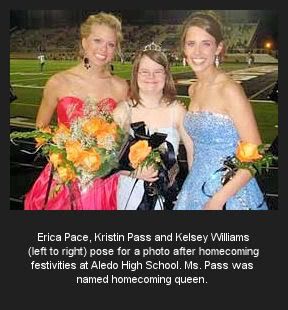 (Via Protein Wisdom)