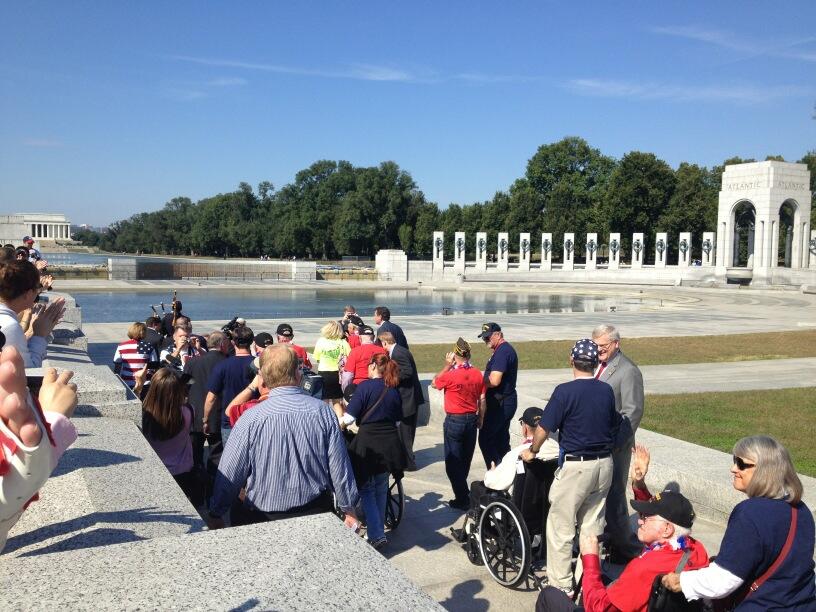 World War II veterans refused to let the Obama government shutdown stand in the way of a once in a lifetime visit to the national World War II memorial in Washington, D.C.
The Obama Administration sought to make a public statement blocking access and assigning park police to guard our national monuments in our Nation's capitol.
Why the federal government would need to spend more money and resources to barricade and block pedestrians from getting anywhere near our national monuments is beyond bizarre.  Yet, that is what this Administration is doing.
That is until a group of WWII vets took the national WWII memorial by storm.
As Members of Congress assisted in providing distraction, these war heroes that had given so much for their country literally took the memorial.  They toppled barricades and got a glimpse of the memorial – the memorial that was dedicated to them.
The park police stood by and later gave a statement to the press that they were "seeking guidance on how to respond," yet the WWII heroes continued to view and observe the memorial unhindered.  For many of them this represented their only opportunity to view this memorial.
This story has a happy ending because members of the Greatest Generation were willing to stand up.  The idea that a government shutdown would be used to try to stop war heroes from even looking at monuments is absurd and just shows the lengths some will go to try to make a political statement, to ensure that the American people feel the pain and lay blame.  This is one instance where such shenanigans were rightfully shouted down.
No sign of folks leaving. The vets have control of the memorial. #shutdown pic.twitter.com/eGj4kmFEiP

— Leo Shane III (@LeoShane) October 1, 2013
Update 10.2.2013: For the second straight day another group of World War II heroes has been unhindered from viewing their memorial.  Surrounded by media, appreciative Americans, and a bipartisan delegation of Members of Congress, these Would War II veterans were again able to retake the memorial, despite Park Rangers and barricades.
Lots of vets lots of congressmen lots of reporters. pic.twitter.com/ENHsIOdZag

— BuzzFeedBenny (@bennyjohnson) October 2, 2013
The Park Ranger guarding the memorial told reporters she was "excepted from furlough" to block access to the National WWII Memorial, stating: "We were instructed to do this by OMB" – i.e. the White House itself.
The most disturbing aspect of this is that the Obama Administration knew that these groups of veterans would be coming to view the memorial and specifically denied them access – a memorial that is open "24 hours a day," every day, regardless of staffing.  Yet the Obama Administration chose to inflict political pain by closing it.  Despicable.
These veterans took Normandy and Iwo Jima.  They will not be stopped, and they should never be stopped.
Lots of vets joining in a rendition of Amazing Grace. pic.twitter.com/CIV10jMN7y

— BuzzFeedBenny (@bennyjohnson) October 2, 2013
This article is crossposted at the ACLJ's Docket Blog.
Matthew Clark is Associate Counsel for Government Affairs and Media Advocacy with the ACLJ. A lifelong citizen of the Commonwealth of Virginia, he lives with his wife and three boys in Northern Virginia. Follow Matthew Clark: @_MatthewClark.