On August 23rd, Labor Union Reports posted a diary here informing RS readers that a gathering of bikers (2 Million Bikers to DC) would be riding to DC on 9/11 in memory of those who died in the attacks and those who died seeking justice for American deaths. 
There is another march planned in DC for that date.  It was originally called "The 1 Million Muslim March".   When the event began receiving a significant amount of backlash from the public, the name was changed to "Million American March Against Fear".   The march is being promoted by the American Muslim Political Action Committee (AMPAC).   
Both groups applied for event permits.  AMPAC received their permit.  The bikers didn't. 
The bikers are riding anyway!!!! 
Annnddd, since I'm having difficulties at the moment getting an image to post, I'll just include link so RS readers can see the kind of response 2M Bikers is getting! 
https://twitter.com/HangEmHigh69/status/376877050998427648/photo/1
https://twitter.com/jusjane6060/status/376811322811240448/photo/1
Facebook page for the group is 2 Million Bikers to DC
I'll try to post updates over the course of the next two days so check back often! 
Update 1:

Official 2 Million Bikers to DC  patch
http://www.bikergeo.com/patch/2-million-bikers-to-dc
Update 2:  Yeah, pictures!!!
Below is picture of bikers assembled outside NYC.

Update 3:
It looks like maybe the permit issue has been resolved.  
Washington D.C. – Today the Justice for Benghazi Rally Organizers, Patriots4America and Special Operations Speaks invite the 2 Million Bikers to ride into the Capitol as 'Bikers for the Benghazi 4' and join their approved and permitted rally on the Capitol West Lawn at 12:30-6:00 pm on September 11, 2013.

We welcome the Bikers to participate in the Justice for Benghazi Rally and will even offer some speaking slots.

"Combining these incredible events will only amplify our determined voice to form a Select Committee for Benghazi." Mitchell Mason, Rally Organizer said. "When members hear the engines roar inside the Capitol, they will know the people have spoken" said Mason.

The Biker Community has always been supportive of our veterans. The Sturgis Buffalo Chip was given to honor retired Navy SEAL Tyrone Woods and former Navy SEAL Glen Doherty for the heroic patriotism and courage shown in Benghazi, where they sacrificed their lives while saving the lives of many others. Larry Bailey, CAPT. (SEAL), USN (Ret.) of Special Operations Speaks, emceed the presentation.

"Rolling Thunder every year in the Capitol is a spectacular sight in support of our veterans." said Larry Ward, Special Operation Speaks Political Director. "Special Operations Speaks truly hopes the '2 Millions Bikers to DC' accept our invitation join us. We need all the grassroots support we can muster to force a vote via the Stockman Discharge Petition on the Watergate-style Select Committee for Benghazi.
Update 4:  9:15 a.m. ET  Sept 10th
Good morning, everyone. I have a Link to DC traffic cameras to watch the bikers live when they roll into DC tomorrow. 
Here's a second link for DC area webcams. 
Riders in Great Britain voicing their support
 USA BIKERS V MUSLIMS UPDATE:

NEWS COPTERS REPORTED A FOUR LANE 55 MILE COLUMN ALREADY HEADED OUT FROM LA LAST WEEK!!! (just from one city)

55 MILES LONG, 4 LANES WIDE, NO WONDER THE NEWS IS SILENT ON THIS REVOLUTION!!
AND STILL THEY COME!! ** UPDATE ON BIKERS V ISLAM!!

Authorities confirm that over 800,000 Bikers are now on the road!

From LA they pour out, from New York they fill the roads, the Mid West, like a moving sea of humanity witnesses the Patriot Tsunami as they roll on towards Washington DC!

And still they come, on Harleys on every brand known, the Biker Patriot Army rolls on towards DC in an unstoppable tidal wave of metal, fumes and leather to pay homage and defend the honour of all the people of EVERY nationality who were butchered by Islamists on 9/11.

Not since the Revolutionary War have so many fighting men took to the road in America!

Never have we seen the likes of such a vast citizen army mobilize and deploy in defence of all the free world holds dear and our Governments despise…FREEDOM AND LIBERTY!

Britain First salutes our fellow Patriots in the USA and we ask all our followers to SHARE this post and let the free world see that WE the people can rise…so politicians…BEWARE!!

Britain First – Taking our country back<<STAY INFORMED.
Update 5:  Beware of scams! Or maybe not.
My apologies. I've retracted what I had originally posted for this update. There seems to be some confusion going on about the donation sites.  Admin posted a message saying that the sites weren't legit.  Then they posted a message saying that they were.  Good cause, but given all the confusion, if you donate, it's at your own risk.
Update 6: 1:25 p.m. ET 09/10/13
The 911 Standing Tall Memorial will be traveling with the bikers to its new home in DC
Update 7:  3:00 p.m. ET   Lots going on! 
Politicians may be trying to break bonds with our traditional allies.  But when it comes down to the bonds between people….
There is a huge amount of support pouring in from other nations, many of which had patriots of their own present inside the Twin Towers at the time of the attack.  The organizers recognized this in the following post: 
UNITING TO RIDE & REMEMBER


#2MBikers


PATRIOTS: OUR PAGE IS BEING READ BY PEOPLE AROUND THIS WORLD, MANY COUNTRIES ARE REPRESENTED HERE. THEY ARE CHEERING US ON FROM AFAR AND WANT TO SEE THE NATION RISE AGAIN.

THANK YOU FOR ALL WHO STOP IN TO OUR PAGE TO ENCOURAGE THE BIKERS THAT ARE MAKING THEIR WAY TO DC. WE APPRECIATE IT!

LET US UNITE AND REMEMBER THAT HORRIBLE DAY. THERE WERE MANY NATIONALITIES IN THOSE BUILDINGS AND ON THOSE PLANES.
And reports coming in via Twitter of bikers pouring into MD
The 2MB2DC organizers did accept the invitation to join Special Operation Speaks and Patriots4America tomorrow.  Shortly afterward, DC police contacted the organizers to inform them that the police would be providing assistance with their route tomorrow!  Kinda' interesting point, isn't it? 
Update 8:   6:30 p.m. ET  09/10/13    Videos!
These law enforcements officers backing up the riders….
NORTH STAFFORD, Va. – Police will close a portion of Interstate 95 tomorrow morning in North Stafford, to allow a group of motorcycles access to the highway from Va. 610.

More in a press release:

At 9 a.m. on [Wednesday], September 11 all lanes on I-95 north at Exit 143 (Rt. 610/Garrisonville) in Stafford County will be closed to traffic for approximately 15 minutes to allow more than 500 motorcyclists to enter the interstate from Route 610 in Stafford County.

The motorcyclist will be traveling north on I-95 to the HOV lanes enroute to the Washington D.C. area.

To avoid delays motorists should use Route 1 north as an alternate route.

For real time travel information anywhere in Virginia call 511 or visit website 511virginia.org.

 
Here's a third DC earthcam link for live feed tomorrow.
Wishful thinking on my part that there might be a film in the works?   Hmmmm…
Filmmaker, Dennis Michael Lynch will be riding with us. To support our ride, he's scheduled two live interviews that can be heard on the radio tomorrow.

1) Mike Huckabee Radio Show at 2:18p ET. Listen online
http://www.mikehuckabee.com/the-mike-huckabee-show

2) Wilkow Majority Show at 2:35p ET. SiriusXM
wilkowmajority.com

 
"Like" count for the FB page goes from 55K yesterday to 103K and counting today.  Also trending third on Yahoo.  

Video out of Bethel, CT: 

Video out of Grandview, MO:
Video out of Athens, GA:


Update 9: 10:00 p.m. 09/10/13   Last call for the night….

Two more webcam links (here and here) for real-time video access to DC tomorrow. 

Video out of Maryville, TN

One Twitter pic (Unknown location.  Sorry)
Aannnddd, one last minute very important notice about DC law on guns.
@2MBikers: MEET UP! WE WILL SEE YOU ALL IN THE MORNING!

A LAST MINUTE NOTE: ALL participants that will cross the DC line tomorrow remember that DC gun laws consider used ammo casings (brass AND shotgun) as ammo.

As such, only DC residents with firearm permits may be in possession of spent ammo casings.

Out of town? You WILL be charged with violating DC law and the penalty is up to a one thousand dollar fine and/ or jail time.

Please leave in Maryland and Virginia ALL used/unused ammo!

Check your keyfobs/chains! Riding bags! Comply with the law.
Don't give them an excuse to take your money!

MOST OF ALL…Ride safe!!
Tomorrow is THE day.  More to come!!! 

Update 10:   7:00 a.m. ET  09/11/13                     A Day of Remembrance

Good morning again.  Just to start things off, here's a refresher (as if we really needed one)

Alan Jackson performing "Where Were You When The World Stood Still"


In preparation for today's events, one of the biking groups out of NJ made this video:

Today's schedule:

All riders will be meeting up at Harley Davidson of Washington in Fort Washington, MD Opening events will take place between 8 and 10 a.m. followed by a briefing at 10 a.m. and ride into DC starting at 11 a.m.  I'll try to post any changes or additions I find as they take place.

Belinda Bee, one of the organizers for 2MB2DC, gave an interview to Fox News this morning during Fox and Friends.  If I can find a copy of that interview, I'll post it here later.  Many thanks to Ms. Bee for all the hard work she has put into this event.

Update 11:  7:30 a.m. ET  Interview video

That was quick!  Thank you to Fox.


Update 12:  9:30 a.m. ET 09/11/13

Okay, so the FB page has moved from 103K "likes" yesterday afternoon to 147K likes this morning!  Totally amazing, but great to see how people are responding to this event.  Still have support coming in from other nations across the globe. 

If you're a Twitter, hashtags to follow today are

Scrambling around to find a few pictures this morning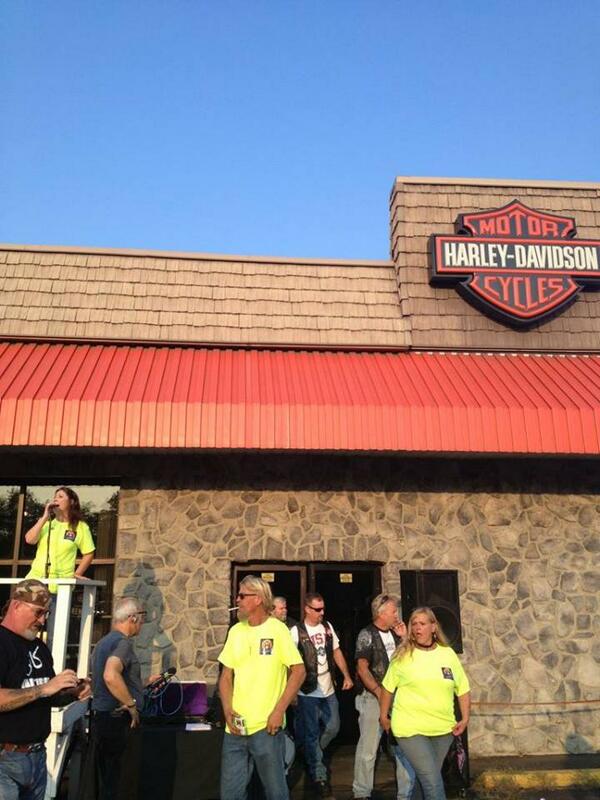 From Sons of #Anderson
From Jodi Rayborn
Okay, folks, I hope I've left enough resources here for readers to be able to enjoy the events of the day.  I'm getting to log into one of the live streams myself for a while, so I may not post any more updates for a few hours.  But I'll try to find comments that can be posted after the event.
To all those who died on 9/11, we have not forgotten.  This is your day!
Update 13:  10:45 a.m. 09/13/11  On-the-ground coverage! 
Reports are coming through FB that we may have crashed one of the web cam sites.  In lieu of that, check out the Blaze.  They have stated that they will have on-the-ground coverage of events along with updates during the day.  Not sure about whether or not they'll be carrying a live feed. 
Update 14:  2:00 p.m. 09/13/11  Hi-ho, Hi-ho, It's off to work I go
I could sit here all day and watch these events, relishing every minute of it that I could find.  But duty calls, bills to pay.  So, off to work I go in about an hour. 
Someone who twitters under the moniker of Just Jane posted a photo with the caption "This says it all".  And I agree.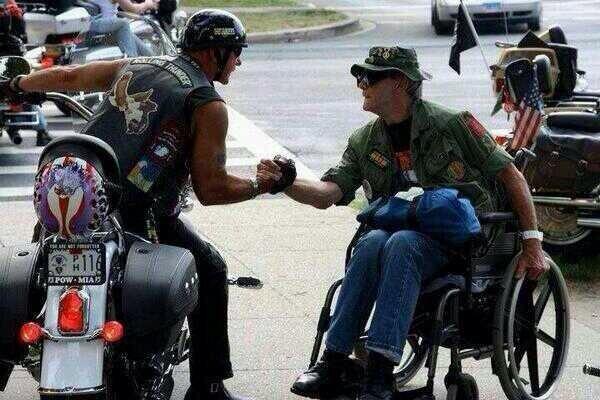 It's all right there.  Picture speaking a thousand words.  Loyalty to nation.  Respect for life.  Mutual respect for each other.  Just standard things we often take for granted on a day to day basis. 
Makes me realize how much I genuinely do love my fellow Americans. 
So, it's about that time.  Before I go….
Much gratitude to the bikers who made this day possible.  May God bless each and every one of you. Most inspiring thing I've seen in a while.
Thanks to the mods of RS who just let me run with this.  (Please, PUHLEEZE, HTML5, guys!)
To all the Conservative pundits who didn't get involved in this….what the hello were you thinking?  You want grassroots support?  Then support the grassroots.  This type of event is flyover-country-approved if there ever was one. 
To all the pundits and news orgs who had to be dragged kicking and screaming into reporting on this…you lost out.  There's no other way to put it.  Big opportunity here.  HUGE!!!!  All but passed you by.  Would have passed you by if it hadn't been for those flyover people screaming at the top of their lungs on Twitter and FB.  Oh, and your welcome! 
To all the other news orgs who wouldn't report on this….Thanks.  I genuinely mean it.  You gave the grassroots an opportunity to find out what they could accomplish on their own, and they did pretty well.  Learning in a hurry.  Very much so deserving of respect, not contempt. 
BTW does anyone know if HD is public stock?  I rather suspect that the MSMs refusal to cover this story is likely to have the same type of response in the general public that all the efforts to ban guns have had. 
Thanks to all those who shared this diary with others.  I hope that it was helpful in enjoying this day of remembrance. 
I think I'll be going back through all the photos I've found online and make myself a "collage of remembrance" for today.  Amazing pics!! 
And with that, I bid everyone "good day".