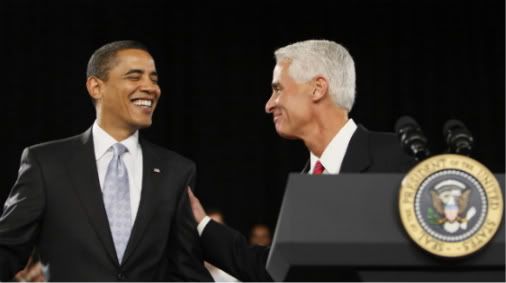 Erick covered the Q-Poll showing that Charlie Crist's once-formidable lead over Marco Rubio had been more than cut in half.  Today, the bad news for the Crist Campaign continued as Rasmussen released a poll confirming that Rubio has shaved more than 20 points off Crist's lead. The poll also confirmed that Crist's support is very soft and that his lead is due almost entirely to unfamiliarity with Rubio:
The latest Rasmussen Reports telephone survey of likely GOP Primary voters in the state finds Crist outdistancing Rubio 49% to 35%. Four percent (4%) like some other candidate, and 12% are undecided.
***

The fact that Crist has fallen below 50% in a primary against a lesser known opponent suggests potential vulnerability.

***

Twenty-three percent (23%) of GOP Primary voters have a very favorable opinion of Crist, while 13% view him very unfavorably.

Rubio is viewed very favorably by 21% and very unfavorably by just three percent (3%). But 23% of primary voters don't know enough about the Cuban-American politician from Miami to express even a soft opinion of him.

At this very early stage of the campaign, Rasmussen Reports considers the very favorable and very unfavorable figures more significant than the overall favorability totals. The GOP Primary is scheduled for August 24 of next year.

Fifty-seven percent (57%) of GOP Primary voters at least somewhat approve of the job Crist is doing as governor, while 42% disapprove. Fourteen percent (14%) strongly approve, and 16% strongly disapprove. Those numbers are not terribly strong for an incumbent Governor in his own party.
Folks, remember two things. First, both Crist and Rubio poll equally well against the likely Democratic opponent. Second, when the pollsters first started examining this race, Crist held a lead of between 35-40 points. The conventional wisdom was that Crist would flood the state with money and Rubio's candidacy would be suffocated and unable to get off the ground.  Five short months later, all but 15 points of that lead has evaporated and as people come to know Rubio, he continues to make inroads on Crist's soft support.
Folks, as people come to know Marco, they become more willing to vote for him, but he needs your help to make that happen.  Send Marco a donation, whatever you can afford, to help make that happen.  Remember, if we do not defeat Charlie Crist in the primary, we will just end up sending a "Republican" who is a rubber stamp for President Obama's economic policies to Washington: