Tomorrow is Election Day, and I'm excited for the Republican House candidates who have worked so hard over the last several months. Momentum is on our side, and tomorrow, Americans can make a bold statement to change our country's direction.
One who I am excited about is Young Gun candidate Sean Duffy, who is running in Wisconsin's Seventh Congressional District. If Sean looks familiar, it's because he was on MTV's Real World. But in the actual real world, Sean is a former prosecutor who stepped forward to run for Congress when he saw the Democrats' failed policies hurting the country.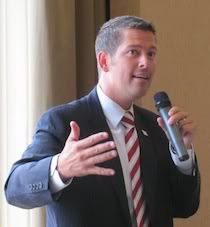 Just like he chops logs as a competitive lumberjack, Sean wants to chop down the federal budget deficit. He would do that by freezing non-discretionary federal spending to 2008 levels and canceling unspent stimulus money.
Sean is also on a mission to get the economy going to create jobs. Instead of the Democrats' tired idea of more stimulus spending, Sean believes in releasing the energy of small businesses. That means stopping the Democrats' tax increases coming on January 1, 2011, abandoning a cap-and-trade energy tax, and reducing regulations on small businesses.
Some of those new regulations are found in the Democrats' government takeover of health care. Sean rejects that Big Government approach and will work for real solutions like letting consumers buy insurance across state lines and lawsuit abuse reform.
Check out Sean's website and follow him on Twitter.
Thanks,
Rep. Kevin McCarthy
NOTE: This post was originally published on No Runny Eggs.