Four days remain until November 2nd – a day when Americans can deliver a loud, clear message that they want to get their country back on the right track. Conservative activists are working hard making phone calls, knocking on doors, and reminding their neighbors to vote for conservative change next Tuesday.
In Illinois' Fourteenth Congressional District, voters have a choice between the status quo of Rep. Bill Foster or Young Gun candidate Randy Hultgren.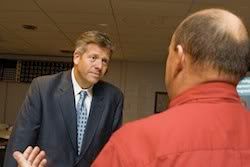 Incumbent Rep. Bill Foster sided with Speaker Nancy Pelosi over 92% of the time. He voted to drastically grow government and the debt by voting for the $800 billion stimulus bill that failed to create jobs and also voting to let the government takeover health care.
As a businessman, Randy Hultgren wants to move away from the failed policies of Congressional Democrats. He knows that small businesses drive job creation. So, instead of government spending billions and driving up the deficit, Randy would repeal the death tax, cut taxes for small businesses, and cut government spending.
On fixing health care, Randy will actually listen to his constituents and work to repeal the health care law and replace it with real reforms like letting consumers buy insurance across state lines and tort reform to limit frivolous lawsuits.
Check out Randy's website and follow him on Twitter.
Thanks,
Rep. Kevin McCarthy