A poll came out showing 61% of independent voters in 10 battleground House districts think Speaker Nancy Pelosi is more liberal than they are. This shows independent voters rejecting the Democrats' out-of-touch policies.
In Tennessee's Fourth Congressional District, we see that contrast between Young Gun candidate Dr. Scott DesJarlais and Rep. Lincoln Davis. Today, I had the pleasure of campaigning with Scott.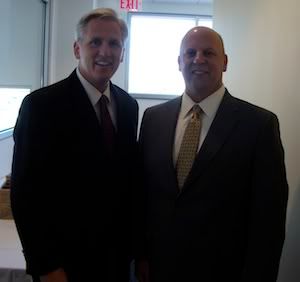 Scott, a doctor with almost 20 years of medical experience, sees a Democrat monopoly in Washington leading our country in the wrong direction. He knows we have to get the economy moving. To do that, Scott will fight to "stop higher income taxes, higher taxes on small businesses and family farms and new taxes on health insurance." Instead of a failed stimulus bill Rep. Davis supported, Scott wants "spending cuts and removing government red tape."
Another difference is over the government takeover of health care. Rep. Davis tip-toes around the issue, saying he'd only repeal "certain parts" of it. Scott wants the unpopular law repealed entirely and replaced with patient-centered reforms. With Scott's medical experience, he understands reforms that will lower costs.
Compare Scott's conservative values to Rep. Davis. On the campaign trail, Rep. Davis mentions he's an "independent conservative," but he aligns himself with Washington liberals, voting with Speaker Pelosi 94.9% of the time.
Two votes in particular stand out. First, Rep. Davis voted for the failed economic stimulus bill, yet unemployment in his district remains high. Then last month, Rep. Davis sided with Speaker Pelosi and voted to leave Washington instead of voting to stop taxes from increasing automatically on January 1, 2011.
Voters in this district have a clear choice. They can support Scott who is listening to the people and fighting for smaller government and lower taxes, or a Democrat who sides with tax-and-spend liberals like Speaker Pelosi.
Check out Scott's website and follow him on Twitter.
Thanks,
Rep. Kevin McCarthy