The Congressional Democrats claimed their government takeover of health care–the bill that was over 2,000 pages, most of it unread–would lower costs. However, The Chicago Tribune reports, cost will go up:
In 2011, the combined average of premium and out-of-pocket costs for health care coverage for an employee is projected to climb to $4,386, according to an annual study by Hewitt Associates to be released this week. That's a 12.4 percent increase, or $486, over this year.

Companies, meanwhile, will see their health insurance costs go up nearly 9 percent, to an annual tab of $9,821 per employee, or double the employer's annual worker tab from nine years ago, according to Lincolnshire-based Hewitt.
It's no wonder a majority of Americans opposes the law. We need to repeal and replace it with reforms that lower health care costs, expand coverage, and increase quality.
We'll take a step towards that if candidates like Stephen Fincher in Tennessee's Eighth Congressional District get to Congress.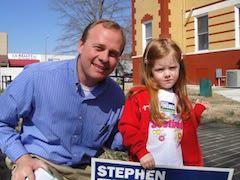 I never heard of Frog Jump, Tennessee until I met Stephen Fincher. In Frog Jump, people farm, they raise their families, they attend church, and they don't get caught up in the ins-and-outs of Washington.
But in the last few years, Democrats have dug us deeper into debt and expanded government so much that people like Stephen felt the need to do something more, so he chose to run for Congress. Stephen not only decided to run, but to put his name on the ballot in a district where the Democrat incumbent had never received less than sixty two percent of the vote in his over 20 years as Congressman. Stephen hit the ground running, and shortly thereafter the Democrat incumbent decided to retire.
Why is Stephen running? The Tennessee cotton and soybean farmer offered a powerful answer:
I love farming, I love Frog Jump, but I love my children more.
Stephen is worried that too much spending and too much debt are hurting his children's prospects to live the American dream.
Stephen went on to tell World Magazine:
We're missing common sense, business sense. You don't spend more than you make. It's not that complicated.
No, it isn't. He's one of those Young Gun candidates who want to bring a healthy dose of real-world experience to Washington.
Check out Stephen Fincher's website and his Facebook page. Then let me know what Congressional race you're most interested in.
Thanks,
Rep. Kevin McCarthy