Note: This post was first published on PAWaterCooler.com.
Our government has faced budget deficits for a long time. But in the last few years, we have seen Democrats go out of control and drive our country toward a fiscal crisis. They spent billions on an economic stimulus that didn't create jobs, and they spent billions on a health care bill that the American people don't want. The Democrats' Keynesian ways are leading us towards an event horizon. We need to turn things around.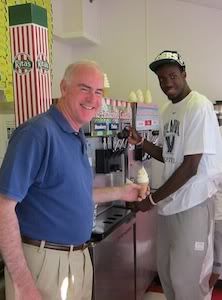 GOP Young Guns candidates have come forward to challenge the liberal status quo in a Democratic run Washington. They are serious about listening to the American people and finding solutions to get a handle on government spending. One of those candidates is Pat Meehan running in Pennsylvania's Seventh Congressional District.
He understands the worries Americans have. While campaigning he told RealClearPolitics, "[Americans are] worried about the economy, they're worried about the direction of the country."
Pat is a former U.S. Attorney. He went after corrupt public officials who wasted tax dollars and lined their pockets. That focus on waste and abuse is just what we need for the federal budget.
I'm not the only guy who is impressed with Pat. Monday night, Pat received praise from another former U.S. Attorney – the current governor of New Jersey, Chris Christie:
Christie described Meehan as a person of character, judgment, wisdom and steadfastness. With plans to continue stumping hard around the country through Election Day Nov. 2, Christie said no endorsement he could make would be more heartfelt.
"Pat Meehan has never let me down and he is not going to let you down either," said Christie, noting Meehan would bring the same prosecutor attitude to Washington, D.C., that he's brought to the governor's office in New Jersey.
I agree with Gov. Christie. Pat will not let down the people of Pennsylvania. Check out his website and let me know what you think.
Thanks,
Rep. Kevin McCarthy