Link to poll showing Jim Bunning with a 28% approval rating and losing to all Democrats.
Political Wire got an advance look at a new Public Policy Polling survey in Kentucky that shows Sen. Jim Bunning (R-KY) with a 28% favorable rating as he attempts to run for a third term.

Bunning loses head-to-head match ups with all four Democrats considering a run against him: Kentucky Lt. Gov. Daniel Mongiardo, Attorney General Jack Conway, state Auditor Crit Luallen and Rep. Ben Chandler.

Complete poll results will be released tomorrow.
This is why Jim Bunning should step down so we don't lose this seat.
Here's a Rand Paul's Speech from this weekend campaigning in Kentucky.
And here is a more fun video of the campaign from C4L
Of course I do have alternative motives for wanting to get Rand into the senate. I believe the GOP is essentially worthless party without a good leader at the top and if Rand won the Kentucky senate, then he would be who I would support for president in 2012.
I didn't like having no one to vote for on the GOP side and having to vote for Chuck Baldwin in this last election, but if there is no one good to vote for on the GOP side again, I'll go back to the Constitution party or Libertarian party again I guess. Then again, even if all the Constitution Party and Libertarian Party voters went with the GOP, McCain probably still would have lost so maybe it doesn't matter.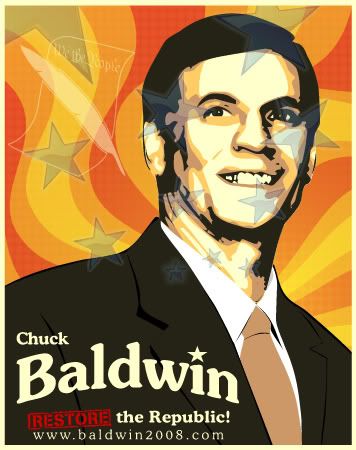 So far Rand has said he won't run unless Bunning decides to step down (See video link of him discussing whether to run or not), but I think he should just openly challenge him regardless. This website is dedicated to drafting him for a senate run, but it's been down for maintenance for the last few days.
I think the Paul movement could easily get him a 5-10 million dollar warchest if he declared rather quickly so that might help intimidate Bunning too.
P.S. We all know who Ann Coulter endorsed for 2012 since I keep seeing that Ann Coulter advertisement.
Update:
The Public policy Polling just released the rest of the Bunning Data. Here is a link to it
Raleigh, N.C. – Jim Bunning's approval rating is just 28%, he trails the four most likely
Democratic candidates in hypothetical contests, and fellow Republican Trey Grayson
looks like a much more formidable possible candidate, the newest survey from Public
Policy Polling finds.

54% of voters in the state disapprove of Bunning's performance, and even among
Republicans just 42% think he's doing a good job. Grayson, the Secretary of State
mentioned most as the possible GOP candidate were the incumbent to step aside, is
viewed positively by 46% of voters with just 19% holding an unfavorable opinion and
35% not sure.
And..continued
Chandler is Strongest Bunning Challenger
The Public Policy Polling survey we previewed yesterday showing Sen. Jim Bunning (R-KY) in dire straights has now been released.

More details: The strongest potential challenger at this point appears to be Rep. Ben Chandler (D-KY), who has a 14 point edge, 47% to 33%.

Attorney General Jack Conway (D) leads 42% to 33%, Auditor Crit Luallen (D) is ahead 42% to 34% and Lt. Gov. Dan Mongiardo (D) is in front 43% to 36%.
What do people think? Is Jim Bunning reelectable with those numbers or is that poll just bogus or something?
RealClearPolitics takes note of the polling here
Also…Some liberals also think this is an easy pick-up seat for them
and
The Humble Libertarian is also excited about a Rand Paul bid for the Kentucky Senate.
Here's one last video of Rand Paul talking about the Bunning race. He seems to really like Jim Bunning, but maybe he's just trying not to burn bridges.