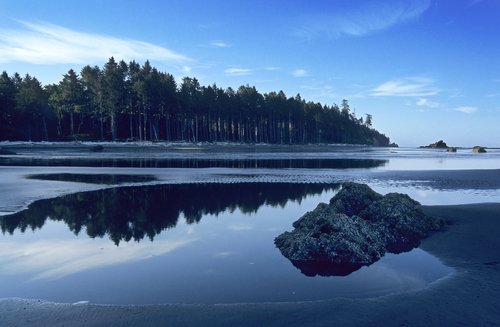 Photo by: http://www.planetware.com/i/photo/olympic-national-park-seattle-wa111.jpg
Reading Vladimir's article about about the tar balls washing up on Gulf Coast beaches, a full half-dozen so far, reminded me of a conversation I had with an Old-Timer I encountered on an Washington Coast beach.  He was about five years of age when he first encountered the effects of World War II.  He recounted walking into his parents back door, with oil gook on his feet.  He tracked it through the kitchen before being stopped by his mother.  Hearing the raised voice, his father came over and let him have it.  His Father sternly advised him this mess in the kitchen was what he explained the other day, he was not to do.
From wikipedia
The battle in the Pacific being what it was,  resulted in many large navy ships emptying their contents onto the ocean quite quickly, including the oil they carried.  Many debris filled oil slicks formed and drifted on the ocean.  The patterns carried them in the general direction of Washington State.  He being a boy, he couldn't resist to see what the ocean carried in that day.  Why not, he had always done it.  But retrieving the article meant stepping through the oily muck to retrieve it, hence the oil covered boots.
The sand of the beaches in the area is normally a quartz and basalt mixture of white, brown, and black granules.  As you  can see, it's all stained black.  It's still a gorgeous beach.  It is frequently ranked in the top ten most beautiful beaches in the world.  But it carries the scars of a world conflict.  It saddened the residents of the time, but they knew sacrifices had to be made to maintain democracy and independence.
Like it or not, the strength of a modern democracy depends on oil.  Hitlers failed drive to the Crimea was a big stake in the heart of the Nazi effort.  Our sides planes, tanks, and factories wouldn't operate without it.  Today our farms and distribution networks have to be powered by large, high torque machines.  Batteries don't cut it.  And I don't want to depend on Hugo Chavez in a time of crisis.  Accident or no, we have to drill the Gulf, and a whole lot more.  And the sands don't look so bad in Vlad-country:
Or in mine
Ruby beach
http://www.allposters.com/-sp/Ruby-Beach-Olympic-National-Park-Washington-USA-Posters_i3676192_.htm