We interrupt your daily (hourly) (minute-by-minute) coverage of Donald Trump's latest nonsense for the latest news on the Islamic terrorism front.
FRONT PAGE
The big news of the past month is history- the redacted/never-released 28 pages of the Congressional report on the attacks of 9/11/01.  Senator Schumer of New York has placed his boss, Barack Obama, in a predicament by introducing legislation which would force publication of those pages and allow victims of 9/11 and their families to sue Saudi Arabia in court for damages.  They allege that the 28 pages establish a connection between Saudi Arabia and the attackers on that day.
While one can understand the heartbreak of the victim's families, there truly are serious international implications involved regarding sovereign immunity.  Obama has threatened to veto the law if it passes although it's co-sponsor, Lindsey Graham, had put a hold on it.
There is obviously something detrimental in those pages as concerns Saudi Arabia given their reaction to the proposed legislation.  At the very least- leaving aside the possibility of restitution to the victims and their families- the truth should come out.  Some who have seen the pages claim they were kept secret because publication would reveal sources of information.  Whatever the reason, fifteen years later many questions remain that need to be answered.  This would be a good start.
REGIONAL NEWS
The Americas & Australia
The Arab-American Association of Brooklyn recently won a $500,000 grant from the city to integrate mental health programs into the community.  The Association is headed by Linda Sarsour who recently tweeted that critics were "Zionist trolls."
The Pentagon announced the release of two Libyan detainees at Guantanamo.  One was described as an explosives and bomb making expert while the other was described as a "veteran jihad fighter."  Gee…what could go wrong here?
CAIR- a Hamas-backed organization- has filed two federal lawsuits alleging that placing Muslims on a terrorist watch list violates their individual civil rights.  Can't wait to see how this one turns out.
Mohammed Khalid, a Pakistani in Maryland who was arrested at the age of 17 on terrorism charges, recently completed his five year sentence.  Khalid helped the FBI counter online recruitment efforts.  The US moved to deport him but a federal judge blocked the deportation on the grounds that he would likely face torture in Pakistan.
The Pentagon announced that nine Yemeni nationals have been released from Guantanamo bound for Saudi Arabia.  They will allegedly participate in a de-radicalization program there.  It is the largest release since ten Yemenis were released to Oman earlier this year.
Europe
British counter-terrorism operatives broke up a 28-person strong cell (half were teenagers) who were headed to Syria to join ISIS.  Some were planning an attack in Brighton.  Meanwhile, a delivery truck driver from Luton was found guilty by a British court of planning to attack US military personnel stationed in England.  He was found with a pipe bomb-making manual on his laptop and several surveillance pictures of air force bases in Britain.  And a Sudanese student studying in England was identified as recruiting at least 16 Britons to join the fight in Syria for ISIS.
Albania arrested nine Muslim imams and charged them with recruiting volunteers for the fight in Syria.  Officials are seeking the maximum sentence under Albanian law for the holy men.
A Pakistani tied to the 2008 Mumbai, India attack was arrested in Austria after he entered the country as a Syrian refugee.  The man, Muhammed Ghani Usman, is believed to be an expert in bomb-making and was apparently a member of ISIS.
Four men and a woman were arrested in Birmingham, England after British police, in conjunction with Belgian and French authorities, broke up what they described as a significant follow-up attack on British soil after the attacks in Belgium and France.
German and Italian intelligence agencies report that ISIS is planning attacks on tourists on holiday on French, Spanish and Italian beaches this summer.  The plan is for the terrorists to pose as selling ice cream and T-shirts.
Africa
Just what Africa needed- another terrorist group has formed in the Horn of Africa called Jahba East Africa.  They are competing with better known Al-Shabbab terrorist group out of Somalia.  Jahba (wanna say …the Hut) is fed up with Shabbab's pussy-footing around the issue of whether to remain an Al Queda associated group or whether to throw their allegiance to ISIS, much like Boko Harem has done in Nigeria.  Jahba is clearly ISIS affiliated.  Considering that Al-Shabbab does a good job of recruiting Somalis in the US, stay tuned for how this one plays out.
At least 44 villagers were killed by Islamic terrorists in a country with increasing terrorist activity- Cameroon.  Several homes were destroyed by fire and cattle killed.  Although there are conflicting stories, it appears the violence erupted after villagers prevented the rape of a female villager at the hands of the terrorists.
Middle East
The US Navy intercepted a major cache of arms, automatic weapons and rocket-propelled grenades bound for Houthi rebels in Yemen.  The ship set sail from Iran who is supporting the rebels in their proxy war against Saudi Arabia in Yemen.
A Saudi doctor was arrested for flying a rainbow gay rights flag above his home.  He claims he did not know its significance and purchased the flag at the insistence of his children who liked the colors.  Now…there is tolerance for you!
It was also reported that ISIS is using social media to identify and locate US military personnel and their families in Europe in order to develop a hit list of targets should they stray from protected areas.
Iran reports that their missile system is not up for negotiation with the United States or anyone else.  They claimed that if the US was serious, we would stop sending arms to Israel and Saudi Arabia.
It was reported that Al Queda, who has lost some of their luster because of ISIS, is $100 million richer after raiding bank accounts in Yemen.
Terrorists blew up a bus in Jerusalem injuring more than 20 passengers.  No one took responsibility for the blast, but one suspects Palestinians.  Speaking of Palestinians, at the Yarmouk refugee camp outside Damascus, ISIS controls 70% of that camp.  Humanitarian aid workers report numerous instances of rape and at least 20 Palestinians beheaded and buried by ISIS terrorists in the camp.
Asia
Ahmet Erdogan, in response to a spate of anti-Semitic attacks in Turkey, denounced the actions while urging that instances of Islamophobia also be denounced by the world community.  In response to to urban violence in southeast Turkey, the government was seized massive amounts of property claiming they aim to rebuild the area.  Unfortunately, most of the seized areas contain Christian shrines, churches and landmarks.  One church which is 1,700 years old is now the property of the Turkish government.
A banned Islamic terrorist group with ties to Al Queda claimed responsibility for the hacking death of a secular blogger in Bangladesh.  There has been a recent surge of violence against bloggers and journalists expressing a more moderate view of Islam, or those that denounce terrorism.
ISIS has threatened to start attacking India from bases in Pakistan and Bangladesh.  Speaking of Bangladesh, a Bengali New Year's celebration was broken up after some gay rights advocates unveiled a rainbow flag.  Four alleged homosexuals were arrested.  And while we worry about bathrooms in North Carolina…
The Taliban claimed responsibility for a rocket attack in Kabul, Afghanistan's diplomatic area.  It was later revealed that John Kerry was in the area encouraging these same Taliban people to come to the negotiation table.
A redacted intelligence report shows that Pakistani Intelligence Services were partially responsible for a 2009 attack on a CIA station that left several dead.  At least $200,000 had been transferred from Pakistani services to Khalil Abu-Malal al-Balawi who carried out the attack.  He, in turn, was a double agent for Al-Queda.
A video surfaced from two captured Canadian workers held captive by Abu Sayyaf.  In the video, they say they that beheading is imminent if Canada does not pay the requested ransom.  Abu Sayyaf is a terrorist group in the Philippines.  The beheaded body was found soon after the deadline passed.
And in Kabul, a Taliban terrorist bomber targeted security detachments for government officials killing at least 28 people.  Another 300 were wounded in the attack.
Latest ISIS Atrocities
A Sharia court in Manbij sentenced a male and female to death by stoning.  Usually, the male suffers a less permanent fate than the female, but this time ISIS is apparently reacting to feminist demands that men be treated equally in these adultery trials.  That same day, another man was beheaded by the same court for communicating with Kurdish fighters.
Not to be outdone, near Raqqa eight alleged ISIS defectors were shot and their bodies crucified on posts on a road leading to Raqqa.  The latest ISIS video shows a thief getting his hand caught off, a homosexual tossed from a building only to survive and be pelted to death by rocks, someone being beheaded for God knows what, and Christian churches being desecrated and their contents being burned on bonfires.  Two days previous, another ISIS video surfaced threatening attacks in London, Paris and Berlin.
ISIS released most of the 300 workers they kidnapped from a cement plant near Damascus, but not before singling out non-Muslims for execution.  At least four members of the minority Druze sect were killed.
THE FUNNIES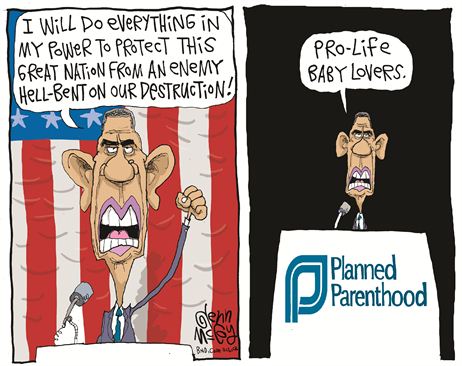 OBITUARIES
Killed by terrorists in April-    801 (5974 YTD)
Injured by terrorists in April-  1,307  (8074 YTD)
Total casualties in April-   2,108  (14,048 YTD)
Number of terrorist attacks in April-  140 (629 YTD)
Number of days in April without some terrorist attack- 0
FINAL THOUGHT
To illustrate the utter nonsense that is Europe today, at a rally after the Brussels attacks a young Muslim was run over in the streets by a car in a deliberate act.  Immediately, the European press picked up and ran with the Islamophobia theme accusing the driver of being a member of a European right-wing group.  Unfortunately, their politically correct bubble was burst when it was revealed that the driver of the car was a fellow Muslim who happened to be heavily intoxicated at the time.