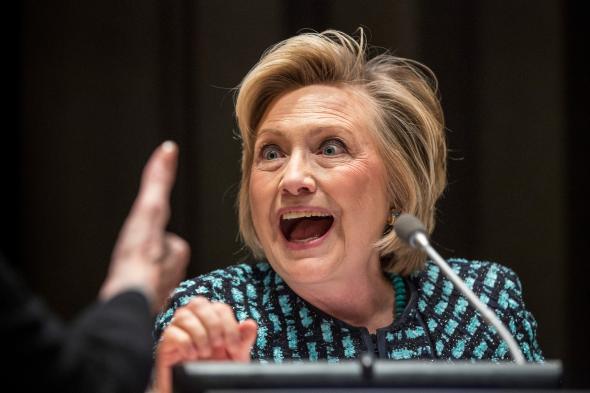 This writer is finding it more difficult to get his hands on these diaries.  No sooner are they published, Clinton takes measures to ensure their privacy.  I shall not be deterred!  I've resorted to tactics that some may find "illegal."  Regardless, here is September's edition:
Sept 4- Dear diary: So much has happened since my last entry.  State released more embarrassing classified exonerating e-mails.  I penned an op-ed on substance abuse.  I so want to be the President of drug addicts everywhere.  Then I had that puff grueling interview with Andrea Mitchell.  I'm so glad she gave me the opportunity to talk so much about that speech I gave long ago in Beijing.  That interview really focused on the future.  Huma suggested I link GOP attack on women to genital mutilation in Somalia…  Gonna hold off on that one.  Then it was off to Puerto Rico.  I really want to be the President that focuses on Puerto Rico.  And gay Puerto Rican drug addicts.  Also talked about health care in PR and doctors leaving for the mainland.  Maybe we should build a wall around PR to keep the doctors in.  Have to consult with Donald on that.  Hahahahaa…
Sept 7th: Dear diary: Been on the trail again in NH and you guessed it…REDACTED Iowa again!  Addressed women's rights.  I'm beginning to think that Trump is starting to believe he can win.  We sent him there to screw things up.  I told Bill to be wary of that megalomaniac.  Well, I came out pretty strongly for the Iran deal.  And that evil Cheney needs to shut up!!!  Gee… I sure hope Jeb is my opponent next year…
Sept 8th: Well it wasn't my idea, but I "apologized" for the e-mail thing in an interview with ABC.  Maybe that will get those pain in the REDACTED off my REDACTED back.  About those e-mails- I just can't help myself making jokes about it.  It is sooooo funny!
Sept 9th: Dear diary:  Gotta thank John for that "distrust but verify" line.  This way I can be both for and against the Iran deal.  More importantly, appeared on Ellen Degeneres Show where I got to answer tough questions about Kanye West running in 2020 and my grand-daughter.  I thought CNN and ABC were tough interviews…  Also, did you see my dance with that little girl.  REDACTED it!  I forgot- little kids can't vote or donate.
Sept 10th: How about that rally in Columbus.  Too bad not many people came out.  Do I have to pay people to bring them in?  How does Bernie do it?  Talked about PP and supplementing their income from selling fetus parts providing vital health services to women.  Then off to WI to support unions.  Need that support since Trumka was parading around with Joe this week.  With Joe…can you believe it?  When I'm POTUS, I will be the president of every day gay Latino business-owning union members.  In fact, I'm gonna unionize business owners- that is how committed I am to labor.
Sept 11th:  Dear diary- Oh God…another training session on how to be authentic.  Today we practiced spontaneous crying and voice crackling.
Sept 13th.  Dear diary: Today went to church with Bill and Chelsea.  Yes- I am a Methodist by birth and by choice.  Huma said to keep repeating that mantra.  Part of my mental training exercises to become a political ninja and kick some REDACTED next year.  Back off on the trail and see what I can do about this Sanders problem.  Tuesday, I have another authenticity training exercise session.  Damn…this is sooo hard!
Sept. 16th.  Dear diary:  Back to REDACTED Iowa where I addressed an issue on everyone's minds- sexual assault.  I so want to be the president of sexual assault victims.  Wait…Huma just reminded me about that child rapist I defended years ago… Forgot about that.  Well, it was sexual assault victims- not children sexual assault victims.  What else?  How can I forget?  That Extra interview I did.  Those were sure some tough questions about that selfie with that Kardashian woman and about Kenya West. Wait… Huma just informed me it is Kanye, not Kenya.  Must still have Obama and 2008 on my mind.
9/17/15.  Dear diary: Hope everyone saw my Tonight Show performance.  That Fallon guy sure is funny.  He had me in stitches.  That was a genuine laugh out of me.  We've been working on an authentic laugh lately in authenticity training.  Then there was that CNN interview with Wolf Blitzer.  Wolf…now THAT is funny.  Not taking that bait on the Fiorina dare over Planned Parenthood.  Besides, a fetus can't donate to my campaign.  Now that is REALLY funny.  Now on to NH.
9/18/15.  Dear diary: Town hall in Nashua where I told everyone I want to be the president of everyday gay Latino drug abusers who are middle class business owners.  Never realized there were so many pot heads in NH.
9/19/15. Another day in NH which is better than another day in that REDACTED of a state, Iowa.  Impromptu stop in Maine and more talk about drugs.  Considering legalizing heroin.  Then it was a dinner in Plymouth, NH where I reiterated my college affordability plan.  Hope no one puts a price tag on my ideas like they did with that old dude from Vermont.
9/20/15.  Diary: Grueling time in New Hampshire.  Addressed their annual Democratic convention.  Only drew 4K to hear me.  Stressed my ideas for the middle class.  I need a REDACTED break.  Think I'll head home for a little R&R at my $1.3 million middle class home.  You see, diary?  I DO have a sense of humor.  I AM authentic.  People DO like and trust me.  Om…Huma said to center my chakra.  Who the REDACTED am I kidding?  This REDACTED doesn't work.  I'm Hillary- the next POTUS!!!  Oh REDACTED.  Just got e-mailed itinerary for this week.  Louisiana tomorrow and Arkansas- OK.  Then REDACTED Iowa.  Thankfully a break until next week for a fundraiser in L.A.   Gonna attack GOP over Obamacare repeal.  Operation FULL EMBRACE is on, motherREDACTEDers.
9/23/15:  Boy am I tired. Louisiana, Arkansas and Iowa (of course…again!).  Phew.  Explained my support for Obamacare.  If only people listened to me years ago, Barry's name wouldn't be on that; it would be mine!!!  And bet they weren't counting on me attacking pharmaceutical companies.  Then I also managed to disapprove of the Keystone Pipeline officially- something I couldn't decide for four years when I was at State.  Oh well… a few days off before I head out to LA for $$$.  Then I gotta get ready for that exciting debate against those other people running against me.  Intensive authenticity training sessions coming up.  And this REDACTED campaign owes me a vacation!!! Bernie owes me a vacation!!! Take that socialism, Bernie and shove it up your REDACTED!!
9/24/15. Dear diary: Well they said to give more interviews…Did you all see my interview on Refinery29?  I thought it would be about energy, but it was a fashion and style website, Thank God!  And then I had that interview with Lena Dunham.  That was a tough one also.  Screw those other stations- I'm sticking with these one-on-ones with websites that no one ever visits.  With Ms. Dunham, I talked again about sexual assault.  Speaking of sexual assault, I seem to have lost Bill- AGAIN!!!!
9/28/15.  Dear diary: Did you see that groveling grueling interview on Meet the Press?  Have to throw lawyers under the bus.   
And that Fiorina person.  Boy did Chuck give her a run for the money or what?  Thank God he wasn't that rough on me.  Geez what do they have in store for me this week?  Hmmm..  Boston- OK.  Then Florida- even better.  Then an event at the Human Rights Campaign.  Wait!!  What's this?  I get the early show and Biden gets the dinner??  Everyone knows my commitment to LGBT Latinos who are single parents and own small businesses.  Why Joe and not me??  That damn right wing conspiracy, no doubt!!!
9/30/15- Dear diary:  Very happy today. Ka-ching, ka-REDACTED- ching!!!!  Finally- something I'm good at- raising money.  And Silicon Valley?  That is a gold mine.  Thankfully no interviews scheduled this week that I know of so that is good news.  This "being authentic" stuff really sucks!!  Well…off to the mirror to practice authentic faces.