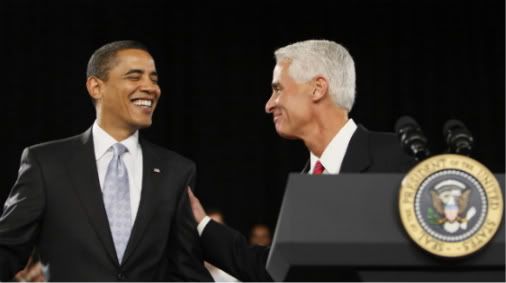 Republicans are going to have a lot of challenges and a lot of opportunities in the 2010 elections. One thing the party needs to do is get our best candidates into races we can win; another is to make sure we hold the easy races and avoid bloody and ideologically divisive primaries in the tough ones; a third is to make sure we can raise adequate funds to support all the races we need to contest; and a fourth is to promote the young stars of the party who will represent its future.
Charlie Crist disregarded all of that when he announced that he was dropping out of the race for re-election as Governor of Florida to enter the primary to replace retiring Republican Senator Mel Martinez. And NRSC Chairman John Cornyn, by immediately endorsing Crist, signalled that he encouraged this sort of behavior. Shame on both of them for putting Crist's personal ambitions above the good of the party. Let us count the ways in which Crist's decision is bad for the Florida GOP and the national party:
(1) Crist Is Abandoning His Post.
This is the underreported aspect of what Crist is doing, on the national level – but it's not going unnoticed in Florida. The GOP has held the Governor's mansion in Florida for 11 years now, through two highly successful terms of conservative Governor Jeb Bush and now the more moderate Crist enjoying the fruits of the Bush-built party. Crist hasn't been an especially great Governor, but he's popular enough and he's handled managerial aspects of the job (e.g., hurricanes) pretty well. He'd be a very strong favorite for re-election in 2010, likely running unopposed for the nomination and allowing the Florida GOP to put the bulk of its efforts behind the Senate race and the down-ticket races. And holding the statehouse is especially critical, with redistricting on the horizon after the 2010 Census – for the future of the party at the state level as well as in the House, the Governor's mansion may even be a bigger deal than the Senate, which is saying quite a lot. Anyone with a passing familiarity with how political parties work should know this, which is what makes it so infuriating that the NRSC wants Crist out of the Governor's race.
The Miami Herald lays out the ramifications down-ticket, where Crist's maneuver opens up a chain reaction of contested races for Republican-held offices:
Besides Crist and Sink, the other statewide elected officials expected to seek new office are Attorney General Bill McCollum and Agriculture Commissioner Charles Bronson, both likely to run for governor.

Crist's bid could also leave the Republican Party of Florida in the lurch, putting at risk its control of the governor's mansion and Florida's Cabinet. And with Crist running for federal office, he no longer can raise corporate contributions or unlimited "soft money" for the state party. That means that the state GOP, already cutting staffers and facing fundraising challenges with the sour economy, loses its top money-raiser.

"It's a huge problem for Republicans, and it certainly plays into the other side's hands," said Republican consultant Brett Doster of Tallahassee. "It's going to put the party in a more defensive posture than it has been in a couple decades."

What's more, some Republicans are worried about their top contender for governor, McCollum. He has lost two of three statewide bids since 2000. Sink, considered the Democratic front-runner for governor if she runs, won her first and only statewide campaign in 2006.

"Bill McCollum is a great attorney general, but I think sometimes when individuals have run too many times statewide, you have to look at who's electable in a general election and then everybody needs to get behind that person in a primary," said Kathleen Shanahan, chief of staff to former Gov. Jeb Bush.
The only party leaders who would encourage Republicans to take this course are Barack Obama and Howard Dean.
(2) Crist Is Throwing His Weight Against A Rising Star
For all the talk about ideas – and ideas do matter quite a lot – political parties win and lose elections with people. And when you have good people on your team, you want them to succeed and advance.
Marco Rubio is one such person. Only 38 years old, the charismatic, Miami-born Cuban-American Rubio – a lawyer and father of four – has risen swiftly in his decade in Florida politics, serving as a City Commissioner for the City of West Miami before entering the Florida House, where he served four terms, served first as Majority Whip during the last redistricting, then Majority Leader and finally Speaker of the Florida House before term limits forced him out of the job in 2009. You can read more here on Rubio, and watch him in action:
And announcing his Senate run:
Rubio is everything older Republicans like Crist should be encouarging: he's young but already experienced as a leader, he's telegenic and a good speaker, he's conservative, and yes, he's Latino, a demographic that a more inclusive Republican party would be reaching out to, not spurning. Here's the reaction from the conservative Hispanic Leadership Fund:
We are highly disappointed that the Republican establishment would slam the door on Marco Rubio, who is the kind of candidate that the GOP should be eagerly supporting. We have heard a lot of talk about how the party wants to find qualified Hispanic candidates to run for office but in the end we see once again that this is nothing but lip-service. Additionally, as conservatives, we are doubly troubled that Rubio has been so swiftly brushed aside by the powers that be. Republicans cannot be a governing majority again until they earn more Hispanic votes, and this move certainly does not help them in this regard.
Charlie Crist has talked a good talk as Governor about promoting diversity, but here we have a guy who is every bit as qualified as Crist to hold statewide office as a legislator – and rather than find a way to co-exist with him, Crist bolts his own job to try to stop Rubio. So much for outreach.
(3) Crist Is Picking An Ideological Battle
Florida is one place where the moderates and the conservatives have, by and large, managed to get along pretty well, as illustrated by statewide victories by the likes of Bush, Crist, Martinez and McCollum, men who certainly don't see eye to eye on every issue. By running Crist for re-election and Rubio for the Senate, Republicans could send a clear message to voters that the state party remains big enough for both groups. Instead, Crist is jumping into a messy, expensive primary race that will split the party into clearly-defined ideological camps and is bound to leave hard feelings on both sides. Moderate Republicans can complain all they want about the Pat Toomey primary challenge to Arlen Specter, but make no mistake: in this race, it's the moderate picking a fight to muscle out a conservative in a state where there is no serious question that conservatives have won and can continue to win races statewide.
(4) Crist Is Leading The Wrong Way
Finally, to be blunt, Crist is wrong on the biggest issue of the day: whether Republicans should oppose President Obama's plans to massively increase government spending and government control of health care, banking, energy, the auto industry, and indeed virtually every aspect of the U.S. economy. His embrace of the wasteful $787 billion stimulus package is the first step in a political Jim Jones act, by which Republicans abandon the clear distinctions that give voters any reason to choose Republicans over Democrats. It's one thing for Crist to be a moderate back home in Florida, where he has to work in a coalition with other Republicans, but it's entirely another to send him to Washington on a platform of joining the Democratic coalition on one issue after another. The party simply can't survive if it's identified with Obama's agenda, and why would such an opposition party appeal to anybody?
Finally, John Cornyn has proven that he has learned absolutely nothing from the fiasco of 2006, when the GOP lost close Senate races elsewhere after pouring millions into a primary race to prop up Lincoln Chaffee. You don't cannibalize key offices like the Florida Governorship to recruit candidates, and you certainly don't do so to poke a stick in the eye of the party's base by creating a contested primary against a rising star who appeals to a crucial demograpic. It's a loser move all around.