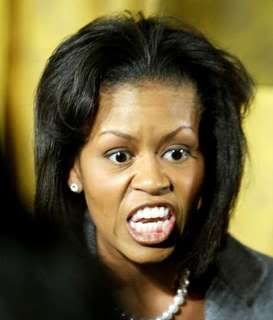 Michelle Obama, February 2008:
Obama explains that she and her husband made the choice to give up lucrative jobs in favor of community service. "We left corporate America, which is a lot of what we're asking young people to do," she tells the women. "Don't go into corporate America. You know, become teachers. Work for the community. Be social workers. Be a nurse. Those are the careers that we need, and we're encouraging our young people to do that. But if you make that choice, as we did, to move out of the money-making industry into the helping industry, then your salaries respond."
Michelle Obama has taken casual to a haute new level.

While volunteering Wednesday at a D.C. food bank, the First Lady sported her usual J.Crew cardigan, a pair of utilitarian capri pants and, on her feet, a sneaky splurge: trainers that go for $540.

That's right: These sneakers – suede, with grosgrain ribbon laces and metallic pink toe caps – are made by French design house Lanvin, one of fashion's hottest labels. They come in denim and satin versions, and have been a brisk seller all spring.

They're out of stock at posh Meatpacking District boutique Jeffrey, and Barneys New York boasts a limited selection of the sneaks, which are a cult favorite among fashionistas.

It's likely Michelle got hers through Ikram, the Chicago retailer that often outfits her.
It goes without saying that a Republican First Lady who showed up at a food bank during a recession wearing $540 sneakers would never hear the end of it, let alone one who had lectured voters on learning to make do with less. But you know, it goes deeper than that. Remember how Barack Obama relentlessly mocked George W. Bush, in the tone of a petulant teenager who can't believe what Dad told him to do, for advising Americans to "go shopping" after September 11? Well, President Bush was absolutely in the right: the nation needed reassuring, and it needed to both sustain the consumer confidence and consumer demand that are the engines of our economy, and demonstrate to the world that we don't change our routines to satisfy terrorists.
Now, with consumer demand in the worst slump in most of our living memory, one of the things we need most of all from the White House is reassurance that it's OK to – you guessed it – go shopping. But President Obama, who has tiptoed up to that line a few times, can't quite bring himself to sound like Dad now that he's the one in the driver's seat. So, Michelle shops, while consumer demand drops. And then what happens? We get Joe Biden giving us the "we're all gonna diiiiiieeeeee" alarm on the Today Show, telling people that he'd advise his family to avoid malls, planes, and trains. It's OK if you go, mind you, but not Joe's family. So much for projecting calm in a crisis.
Somehow, no matter what the state of the U.S. economy, the Michelle Obamas in and around the government will always manage to get their fancy French sneakers. I don't begrudge them that – but I do wish they acted as if they felt the same way about the rest of us.