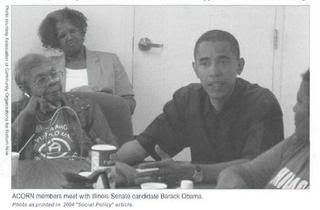 I'll cover this in more detail in a few days in Part II of my series on the Integrity Gap between the two tickets, but as the evidence mounts+ of the involvement of the left-wing community organizer group Association of Community Organizations for Reform Now (ACORN) in extensive voter fraud across multiple states, Barack Obama has tried to minimize his involvement with ACORN and the critical role it played in his rise in the world of the Chicago political machine.
Obama's "Fight the Smears" campaign website denies any ties to ACORN other than his representation of the group in a 1995 lawsuit:
Fact: Barack was never an ACORN community organizer.Fact: Barack was never an ACORN trainer and never worked for ACORN in any other capacity.Fact: ACORN was not part of Project Vote, the successful voter registration drive Barack ran in 1992.
As the Cleveland Leader points out, this is flatly contradicted by an article written by ACORN head Toni Foulkes, which was conveniently removed from the internet (a common practice in the drive to scrub all evidence of Obama's career prior to 2004) after it was quoted by Stanley Kurtz of the National Review and other sources, while the rest of the articles on the same site remain up:
Obama then went on to run a voter registration project with Project VOTE in 1992 that made it possible for Carol Moseley Braun to win the Senate that year. Project VOTE delivered 50,000 newly registered voters in that campaign (ACORN delivered about 5,000 of them).Since then, we have invited Obama to our leadership training sessions to run the session on power every year, and, as a result, many of our newly developing leaders got to know him before he ever ran for office. Thus it was natural for many of us to be active volunteers in his first campaign for STate Senate and then his failed bid for U.S. Congress in 1996. By the time he ran for U.S. Senate, we were old friends."
This stuff has been out there in plain sight, yet still Obama denies it:
As recently as March 2008, the Los Angeles Times also made reference to Barack Obama's involvement with ACORN:

"At the time, Talbot worked at the social action group ACORN and initially considered Obama a competitor. But she became so impressed with his work that she invited him to help train her staff." (LA Times, March 2, 2008)
It was also reported contemporaneously by the left-wing Chicago press:
A 1995 Chicago Reader article on Obama stated "Obama continues his work largely through classes for future leaders identified by ACORN and the Centers for New Horizons."
During the 2008 Democrat primary, the Obama campaign paid Citizen Services Inc., a subsidiary of ACORN, more than $800,000, a payment that Obama's campaign somehow managed to misreport to the FEC
As of yet, we can only speculate about why Obama is lying about his involvement with ACORN, what other aspects of that relationship he has failed to disclose, and what other things have been conveniently "disappeared" from his Chicago past.