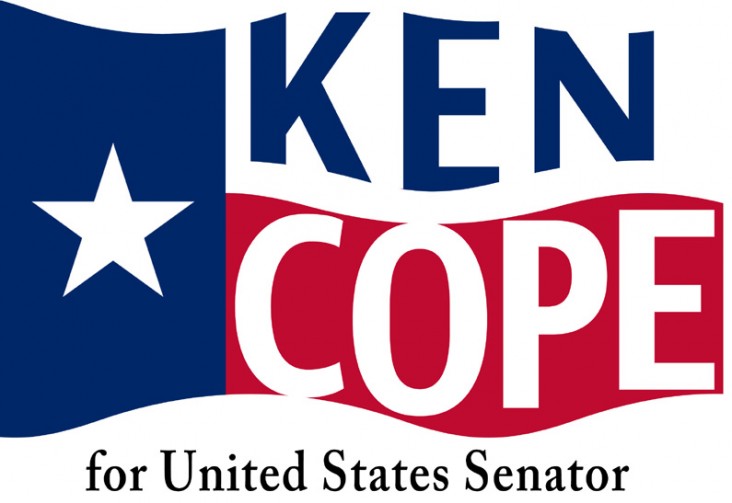 Meet Ken Cope, an impressive Republican running against the powerful Senator John Cornyn for the U.S. Texas Senate.
Ken Cope has a plethora of management and leadership experience spanning both Army and  private aerospace experience on the international level. The bottom line is he appears to be a proven problem solver. Don't take my word for it; read his answers on a wide range of subjects at the Dallas Morning News Voter Guide.
While I've been one to state, "be careful what you wish for" in regards to unseating Cornyn since he's been fairly good to Texans and the Left is clamoring to change the color of Texas from red to blue, his last trickery vote on the debt ceiling sealed the deal for me; he needs to go. I didn't reach this conclusion lightly but he's proved that he's all hat and no cattle and Texans shouldn't have to endure his lack of leadership for 6 more years. 
The DMN guide let's you compare two candidates at a time and typical of an incumbent, Sen. Cornyn decided not to respond to DMN so one can't compare his record to all seven, yes seven, of his competitors, which tells Texans we're not worthy of knowing his stances. As usual, only an establishment incumbent, comfortable in his cushy seat, decides what he wants us to know…or not.
Some here have advocated for Dwayne Stovall who by all accounts seems to be a very nice guy, but not very experienced in anything but building bridges, literally. I applaud his vigor and enthusiasm to run against Cornyn, yet personally can't find a compelling reason to vote for him for the U.S. Senate. The answers he gave in comparison to Ken Cope show his lack of domestic and international experience and it would be a vote for anyone but Cornyn which I'm not prepared to do in this case.
As for Steve Stockman, I think he is a loose canon as evidenced as his bizarre behavior recently such as missing 17 House votes since Jan. and his weird Where's Waldo type Tweet about where he was and we'd find out Monday (read more here and here). And most of his responses to the DMN Voter Guide were about Cornyn's record and not what solutions he has or will offer as a Senator. *And Ken Cope sees Stockman as a detriment to all the other serious contenders in the race and sent him this letter asking him to withdraw from the race.

By contrast, Ken Cope recently released his new "503 Tax Plan" described by PRLOG as:
Texas U.S. Senate candidate Ken Cope has announced an income tax replacement plan that vastly simplifies federal tax collection, with the added benefit of eliminating the IRS.

Cope, who is seeking to unseat current Senator John Cornyn in the March 4 Republican primary, calls it his "503 Plan" because:
•    5 – It would replace federal income taxes with a 5 percent national sales tax on all goods except food and medical.
•    0 – It would exempt all small businesses with gross revenue below $2 million from federal corporate taxes.
•    3 – It would levy a 3 percent corporate tax on the gross revenues over $2 million of all companies in the U.S.

"The Ken Cope 503 IRS Elimination Plan is designed to relieve all individual Americans and companies from the burden of federal income tax compliance," Cope said.
*I applaud him for stating he will only serve two terms if he gets elected (if only all politicians self-term-limited themselves!) This is included in his 5-point "Contract with Texas" that is simple and direct:
Two-Term Limit. After successfully serving as your Senator for my first term and winning Texans' support into a second term in 2020, I would not seek a third term. I will not become a career politician. The framers of our Constitution did not want career politicians, and neither do I. Also, I urge other candidates, in Texas and across America, to voluntarily term-limit themselves as I am doing.

Restricted Campaign Donations. If elected, I will accept no second term campaign donations until 18 months before the election, or May 2019. Our Senators and Representatives devote far too much energy to building huge campaign coffers at the expense of service to their constituents. My pledge gives me four and a half years to focus only on providing responsive, attentive representation to the people of Texas.

We've Reached Our Debt Limit. I will support no further increases in our debt limit. We need to spend less, not borrow more, and my vote on further debt limit increases will be a NO in every case.

Obamacare Must Go. I will vote against any measure that funds the Affordable Care Act or preserves it in any way. I will work with Republicans and Democrats to put forth a workable, market-based alternative by July 2015.

Read First, Then Vote. I will not vote for any piece of legislation unless I have first read it and understand it. No Senator or Representative should ever be "surprised" at what was in legislation they voted for.
Compare for yourself and decide. But decide quickly as the Primary on March 4th is quickly approaching. *EARLY VOTING STARTS 2/18 through 2/28. Unfortunately I don't see the grassroots coalescing around one candidate with the goal of unseating Sen. Cornyn. Our time is running short but our mission is critical.
An endorsement of Ken Cope by RedState would go a long way, but if not Cope, please endorse someone that can unseat Cornyn. Texans and all Americans deserve a new conservative senator from the Lone Star state.

P.S. I have never met Ken Cope nor have any affiliation with him or his office. My recommendation is based on researching the contenders.
*P.S.S. All updates start with an *.