Cook Political Report has shifted Indiana, North Dakota, West Virginia, and Missouri into the direction of Republicans.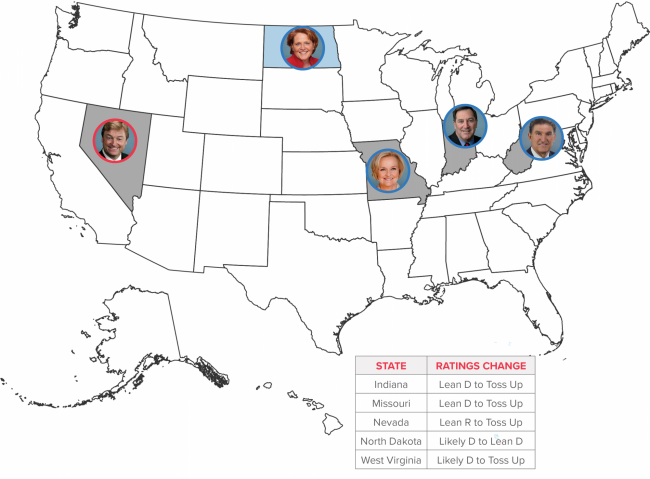 West Virginia is probably the most surprising here. Trump's support is so strong in that state that there might finally be a viable challenge to Joe Manchin, who appeared to be a lifetime appointment before this cycle. I think North Dakota leaning D is probably a little generous, but we'll see. I can't see in these polarizing times North Dakota re-electing a Democrat to that seat.
Of all these races though, the one that should make conservatives the most happy is Claire McCaskill in Missouri. McCaskill has become a far-left demagogue on the national scene, falling only slightly below Elizabeth Warren on the scale of grandstanding, annoying Democrat politicians. Missouri residents have seen her abandon them time and again so she can puff herself up on the national stage instead. That has consequences.
Heller, meanwhile, is in trouble. He punted on repealing Obamacare and criticized cutting Medicaid. He's successfully alienated many Republicans in Nevada while having very little chance of making it up with Democrat defectors and moderates. The best outcome is to primary him and try to rebuild the Reptilian coalition that put him into office in the first place.
Most of these moves are expected (half of them shouldn't of leaned D in the first place), but it does reinforce just how bad the Democrat's map is in 2018. Trump could probably sacrifice puppies on the lawn of the White House and Republicans would still pick up seats. That's how bad it is.