Once again, NY Governor David Paterson has wielded blatant accusations of racism against his critics, like Van Helsing would a cross against Dracula. In an interview with NY Daily News columnist Errol Lewis, the accidental Governor laid the cause of all his troubles upon the alter of racism.
Speaking on a morning radio show hosted by Daily News columnist Errol Louis, an angry Paterson blamed the white-dominated media for pushing him to step aside next year.

"The whole idea is to get me not to run in the primary," he said. Paterson complained there are not enough "black" media outlets to counteract the push.

And he suggested that Massachusetts Gov. Deval Patrick, the country's only other African-American governor, also is under fire because of his race.

"We're not in the post-racial period," Paterson said.

"The reality is the next victim on the list, and you can see it coming, is President Barack Obama, who did nothing more than trying to reform a health care system."
The Governor, who is a longtime racial arsonist, weaned within the Harlem Democrat Club and a former State Senator from Harlem, is either cynically playing the race card or is mentally ill and actually incapable of believing there is any other reason people would criticize his administration.
This Governorship has been characterized by complete incompetence since his ascension to the Governor's mansion following the sexual melt-down and resignation of his predecessor, Elliot Spitzer. His inability to deal effectively with a complete break-down in the state economy, numerous state level scandals among the Democrat leadership and the leadership debacle in the state Senate have certainly not helped this lightweight.
Various polls show the Governor's approval rating around a dismal 30%. Moreover, a recent Quinnipiac poll shows Democrat primary voters prefer NY Attorney General Andrew Cuomo 61% to Paterson's 51%. Even in the black community, Cuomo is preferred 62% to 49% in the poll. Cuomo hasn't even announced he's running for Governor.
Paterson has a long-standing history of crying racism like the little boy who cried wolf.
Last September Paterson accused the McCain campaign of veiled racism by directly accusing them of using the term "community organizer" as a reference to Obama's race.
"I think the Republican Party is too smart to call Barack Obama 'black' in a sense that it would be a negative. But you can take something about his life, which I noticed they did at the Republican Convention – a 'community organizer.' They kept saying it, they kept laughing," he said.
In July 2008, at an NAACP convention, Paterson also threw up the magic shield of racism for both himself and Obama.
Governor Paterson, who became New York's first black governor following the resignation of Eliot Spitzer, is lashing out at the press for describing him as an "accidental governor," implying in a speech that the term's frequent usage was motivated by racial bias.

In a speech at the National Association for the Advancement of Colored People's annual convention in Cincinnati, Mr. Paterson also suggested that the defeat of Senator Obama by Senator McCain in the presidential contest would be a victory for racism.
Paterson is right about one thing, we are not in a post-racial world. We never will be as long as there are people like him, and so many of the Obama supporters, who see the spooks of race lurking behind every criticism of their administrations. Sadly, they don't even see how their cynical use of racism allegations is, itself, an act of racism, whereby they seek to devalue free speech and the humanity of their own legitimate opponents.
The recent out-of-control use of this tactic has highlighted its inherent fallacy and hopefully will lead the citizenry to refuse to heed it in the future.  They've simply pushed that envelope too far, too often.
Racism is the new Chicken Little.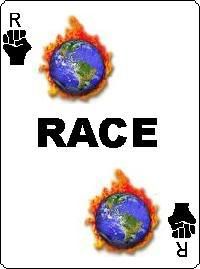 ————————————————————-
Greetings from occupied territory!