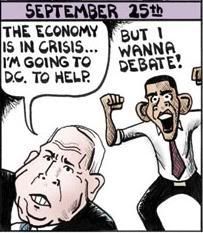 There will be great conjecture over the weekend about what exactly, if anything, Senator McCain accomplished by suspending his campaign and heading to Washington DC to work on an economic rescue plan. Well, I'll tell you what.
The current Senate session was scheduled to end today. Based on the behavior of the Democrat leadership in the Senate in the past, they would likely have adjourned the session without accomplishing anything toward economic recovery. That's the way Nancy Pelosi and Harry Reid operate.
Enter Senator McCain. By making the call to suspend his campaign and heading to Washington DC, he put the Democrats on notice: there will be no debate, no Presidential politics, unless you commit to getting something done on the economy. Without an opponent, what could Obama do? Stand up on a stage in a town hall meeting talking bad about the Republican nominee while that very nominee was in Washington trying to hammer out an economic reform package? That's likely what would have happened. And that would have made it very clear to the American people who was truly ready to lead.
Instead, the Democrat leadership in the Senate — likely either pressed by their Presidential nominee or simply out of partisan politics — called an audible. Harry Reid took the podium this morning just before 11:00 am and announced that the Senate was going to get this done. He announced that they would stay in session until an economic recovery package was in place. They did this so that Senator McCain — who had said he would only attend the debate if progress was being made toward a recovery package — would be forced to attend the debate or look as if he was trying to dodge it.
Senator McCain has now announced that he will indeed attend the debate. He will face off with Barack Obama in Oxford, Mississippi, while Senate and House Leadership tries to come to an agreement on an economic recovery package. Senator McCain has achieved what he intended all along: to get the Democrat leaders of the Senate to extend the current session and not leave until the situation is resolved.
Who is the winner here? In my view, Senator McCain's tactics worked. He went to bat against Senate leadership for the American people, and hit a home run. We, the American people, have won, as the do-nothing Dems of the Senate have been forced to do
something
so their candidate could have his debate. And the best part is, Senator McCain has
proven
his leadership skills without having to speak a word during the economic conference last evening. Having been accused of sitting in the meeting in silence, Senator McCain accomplished what he needed most of all — to get some action from the Senate.
Kudos, Mr. McCain, and thank you for standing up for America. Now all that's left is to make Obama regret the mere thought of tonight's debate.
Read more at Average Joe American.US.