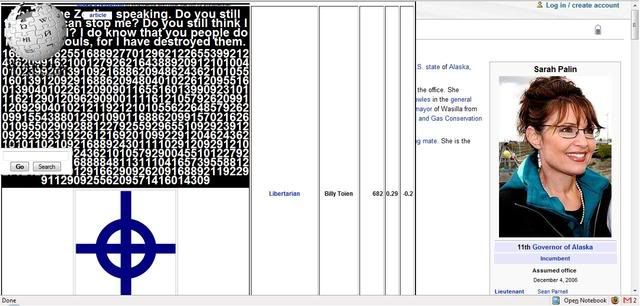 Browsing through Twitter this morning, I saw a link to an article that Governor Sarah Palin's Wikipedia page had been edited just prior to Senator McCain's announcement that she would be his Vice Presidential running mate, and that the editing had been an inside job.
As I was looking at her Wikipedia page on Friday upon the first mention of her name on Fox News, I thought I would take a look today and see if I could spot any changes. What I found, instead, is represented in the screen capture above.Governor Palin's Wikipedia page had been hacked! I reloaded several times and received the same result. Then, in about the amount of time it took me to upload my screen capture to Twitpic and post it to Twitter, the hack was gone. I refreshed the Wikipedia page again after posting it to Twitter, and everything was back to normal.
Certainly, if Governor Palin's page was edited at her own request (or even that of her campaign, really), then someone has surely defied commonly accepted Wikipedia etiquette. Wikipedia frowns on people editing their own content, or orchestrating the editing of it.
However, what of the individual(s) that perpetrated / orchestrated the above hack? Is that not more of a violation of common decency than editing your own Wikipedia page? It is both fortunate and unfortunate that the page was returned to normal so quickly. Fortunate, because those looking for information on Governor Palin will once again be able to access it at Wikipedia. Unfortunate, because the legitimacy of the screen capture above will surely be called into question unless someone independent of me happened to stumble on it as well.
Naturally, liberals around the country will get a chuckle out of this. But can you imagine their outrage if this had come upon the page of Barack Obama?
Read more at AverageJoeAmerican.US.