Ted Cruz flew to Wyoming to give the state convention's keynote speech today, and picked up a tidy 14 out-of 14 delegates available:
JUST IN – @tedcruz sweeps all 14 Wyoming delegates, 12 from his official slate plus two others aligned with him pic.twitter.com/RrF876J7CD

— Betsy Klein (@betsy_klein) April 16, 2016
Cruz is running circles around Trump so far in April:
Hey @joehoft @gatewaypundit Don't tell Manafort but Cruz has now won 102 delegates in April to Trump's 7 #LOLThird https://t.co/6M13CwCAtg

— Rob Eno (@Robeno) April 16, 2016
The Casper Star Tribune credited Cruz with policies that would help the average Wyoming voter. These included kick-starting the coal mining industry after 7 years of suppression under Obama, and allowing Western States to claim their own lands from the federal government for resource management and ranching:
"We've seen for seven years a war on coal," Cruz said. "Barack Obama promised when he got elected he would bankrupt every coal-fired power plant in America."

That is the only campaign promise he's fulfilled, he noted.

"America is the Saudi Arabia of coal and we are going to develop our resources," Cruz said, to claps and cheers.

…

Cruz spoke to sagebrush rebels, who want Wyoming to manage or own large swaths of land currently controlled by the feds. They feel permitting for minerals extraction is too slow and cattle grazing fees and rules are too burdensome.

"When it comes to federal land, why on earth is the federal government the largest landowner in the United States of America?" Cruz asked.
 Goodness – lot of Cruz folks at the top of the vote-receiving list:
Here's the final delegate tally from the Wyoming state convention today, where Ted Cruz took all 14 delegates.

— Ryan Struyk (@ryanstruyk) April 16, 2016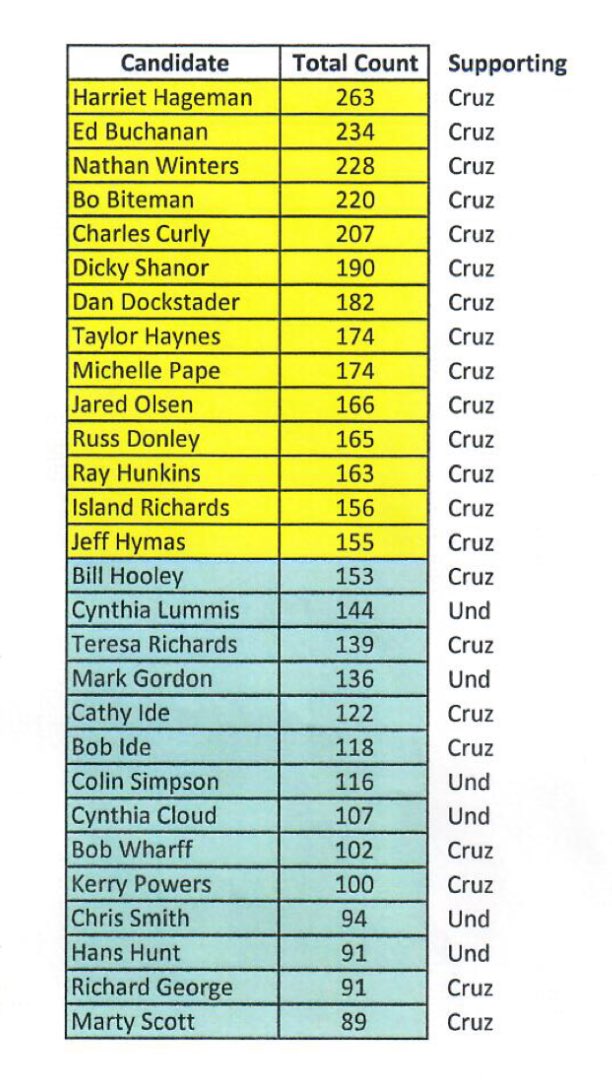 Although Trump didn't bother to even try in Wyoming, he did sent candy:
Trump couldn't even fill a slate in Wyoming. 14 delegates at stake but only six on list. But at least there's candy?

— Ryan Struyk (@ryanstruyk) April 16, 2016