UPDATED – CRUZ SWEEPS COLORADO DELEGATES IN CRUSHING FASHION
Cruz finished off a sweep of the state. The best the Trump organization could manage was a few alternate delegates, and Kasich was never in the hunt at all.
Here's the Official Cruz Statement: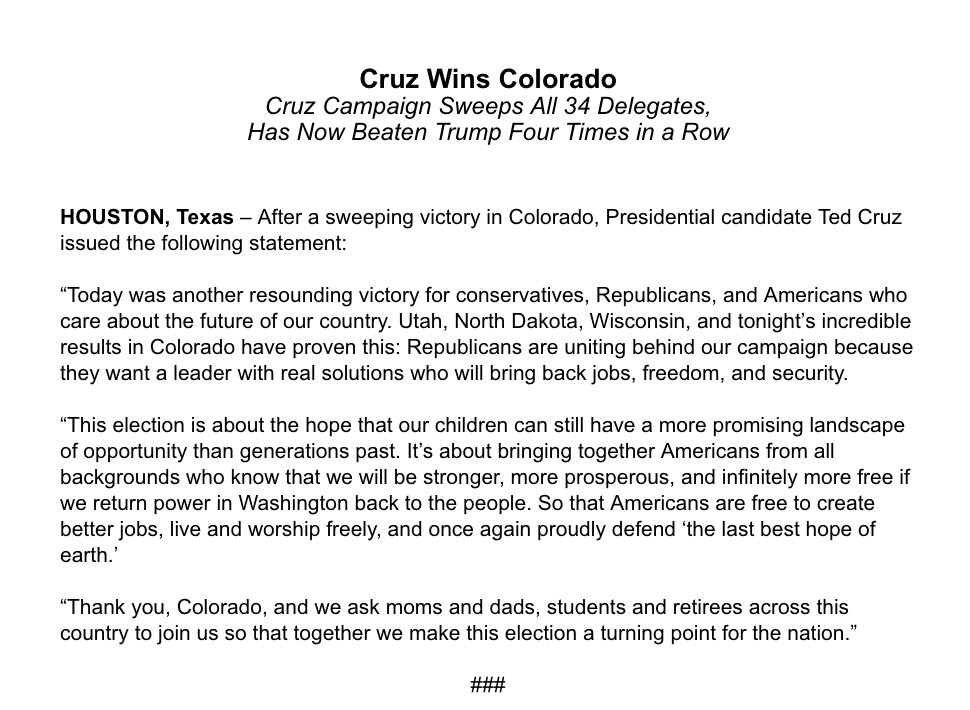 COLORADO SWEEP: Ted Cruz wins all 13 delegates awarded at CO GOP convention. 34 overall.

— Benjy Sarlin (@BenjySarlin) April 10, 2016
Colorado went from unbound to WINNER TAKE ALL for @tedcruz. Crazy! #copolitics #cogop2016

— John Frank (@ByJohnFrank) April 10, 2016
Trump scores 6 alternates in CO, but is shut out of delegates. 30 of the 34 are pledged to Cruz, remaining 4 on his slate + will vote 4 him.

— Nick Riccardi (@NickRiccardi) April 10, 2016
---
Colorado Republicans are cheering anti-Trump today and carrying around Cruz-brooms in anticipation of a 13-delegate sweep today after grabbing the first 21 delegates the last couple of days. The likelihood of Cruz completing the sweep is increasing, as Trump's people are screwing up their delegate fliers which tell their people how to vote.
Trump's folks are passing out fliers with a Cruz delegate on them:
Uh oh. Delegate #289, who is on Trump list of preferred CO delegates, is actually Ervin Krause — and bound to CRUZ. pic.twitter.com/ZnWpLPSUc6

— Ryan Struyk (@ryanstruyk) April 9, 2016
And Trump's fliers have the wrong delegate numbers for the names on their list, which will make it very difficult to vote, since the actual ballots will only have numbers, not names:
Seven of 26 names on Trump delegate list have incorrect numbers. Problem when ballots have no names, just numbers. pic.twitter.com/ZnWpLPSUc6 — Ryan Struyk (@ryanstruyk) April 9, 2016
Lots of problems for the Trump Keystone Cops crew:
Whoops…major errors on Trump slate. 5 delegate #'s are wrong & of those 5, 1 pledged to Cruz and 2 unpledged. pic.twitter.com/Ayr1sO6VeT

— Katherine Faulders (@KFaulders) April 9, 2016
---
The Cruz-brooms are out:
COLORADO SPRINGS — Hello from the @ColoGOP convention where @tedcruz supporters expect a *sweep* of 37 delegates. pic.twitter.com/TR7pA3jvBW

— Ed O'Keefe (@edatpost) April 9, 2016
Fortunately for Trump, his folks have already given up before the voting even starts:
Spoke w/Trump CO super volunteer Becky Mizel. Said slate was her idea but "we know we're not going to take anything out of" it.

— Alexandra Jaffe (@ajjaffe) April 9, 2016
Trump might as well give up – when the crowd cheers #NeverTrump, you know it's not going to be a good day:
Cheers from Colorado delegates when speaker says: "America deserves a heck of a lot better than Hillary Clinton or Donald Trump."

— Ryan Struyk (@ryanstruyk) April 9, 2016
Nice crowd shot:
What 6,000 Colorado Republicans look like from the sky. #DelegateHunter pic.twitter.com/7eGahRWWck

— Jacob Soboroff (@jacobsoboroff) April 9, 2016
---
[Update] By noon, Trump's people had fixed their sample ballots. Well, kind of fixed them:
Corrected Trump sample ballot still has three wrong numbers pic.twitter.com/6EeS1rUDIY

— Ben Jacobs (@Bencjacobs) April 9, 2016
So, only 3 names & numbers of delegates wrong. Not quite so bad. Errrr…. make that 4:
It's actually worse: Four by my count. Parks, Mizel, Lambert, Jenkins. https://t.co/kE8tMe9qaT

— Benjy Sarlin (@BenjySarlin) April 9, 2016
---
[Update 2] Cruz finished speaking a short time ago, a normal stump speech with a lot of praise for Colorado Congressional Districts voting for his delegate slates. Reporters on-site say that the place looks like one big Cruz rally:
Cruz speaking with list of delegate names on big screen behind him: "Please vote official Cruz endorsed slate." pic.twitter.com/1OSnnyqdP2

— Ryan Struyk (@ryanstruyk) April 9, 2016
Some reporters feeling sorry for Trump delegates:
It's not easy being a Trump supporter in Colorado. Why they're feeling "demoralized": https://t.co/YT53gQavhu #copolitics

— Alexandra Jaffe (@ajjaffe) April 9, 2016
MSNBC chats with a Cruz delegate at the convention today:
Cruz just wrapped at CO's GOP convention. This woman on was on stage w him & has his endorsement for RNC delegate. https://t.co/9cTeDYlwy6

— Jacob Soboroff (@jacobsoboroff) April 9, 2016