Oopsies!
The White House website (whitehouse.gov) still shows the original "If you like your health plan, you can keep it" promise. See the text here on www.whitehouse.gov/healthreform/healthcare-overview:
Health Care that Works for Americans
On March 23, 2010, President Obama signed the Affordable Care Act into law, putting in place comprehensive reforms that improve access to affordable health coverage for everyone and protect consumers from abusive insurance company practices.
For those Americans who already have health insurance, the only changes you will see under the law are new benefits, better protections from insurance company abuses, and more value for every dollar you spend on health care. If you like your plan you can keep it and you don't have to change a thing due to the health care law.
For the uninsured or those who don't get their coverage through work, a key component of the Affordable Care Act will take effect on October 1, when the new Health Insurance Marketplace open for business, allowing millions of Americans to comparison shop for a variety of quality, affordable plans that best meet their health care needs".
And the screenshot: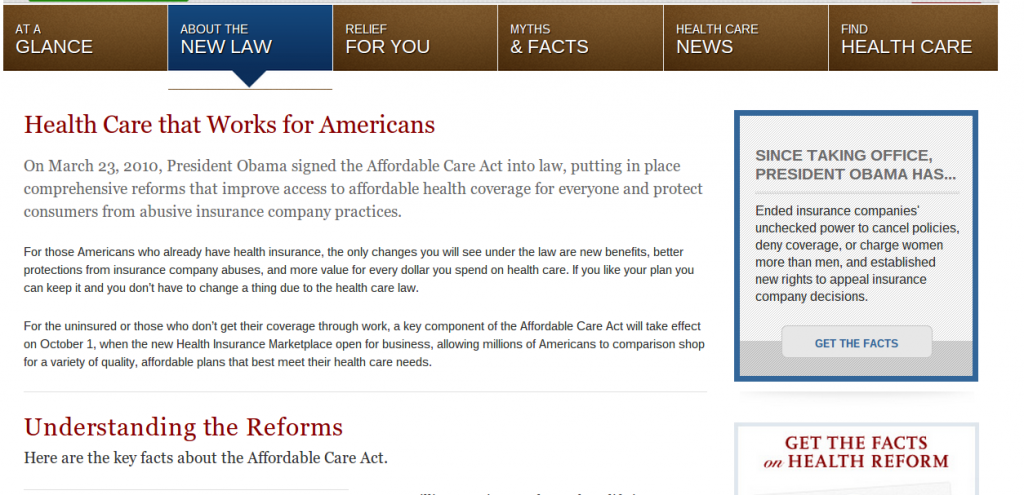 This is different than the speech he gave just a few days ago, where he gave qualifiers on the "if you like your plan, you can keep it.
PRESIDENT OBAMA: Now, if you have or had one of these plans before the Affordable Care Act came into law and you really liked that plan, what we said was you can keep it if it hasn't changed since the law passed. So we wrote into the Affordable Care Act, you're grandfathered in on that plan. But if the insurance company changes it, then what we're saying is they've got to change it to a higher standard. They've got to make it better, they've got to improve the quality of the plan they are selling. That's part of the promise that we made too. That's why we went out of our way to make sure that the law allowed for grandfathering.

After the speech above, The Daily Caller reported that Obama made the original promise at least 29 times. Does this make 30?
Perhaps the same IT guys in charge of maintaining healthcare.gov are in charge of updating Whitehouse.gov.
UPDATE: Foxnews is showing another page of whitehouse.gov's healthcare reform section, which also currently states this:

"For Americans with insurance coverage who like what they have, they can keep it. Nothing in this act or anywhere in the bill forces anyone to change the insurance they have, period."
Too bad Obama doesn't read his own website.