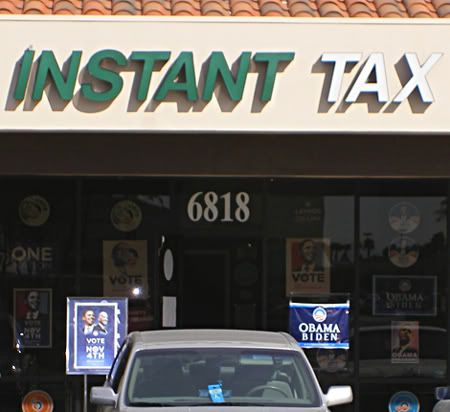 Go ahead, drink it in.
What happens in Vegas, well, sometimes doesn't stay in Vegas. This is a genuine photo of an Obama campaign office in Las Vegas. I couldn't have planned this shot better myself, and I'm a guy who knows his way around photoshopping for fun and vengeance.
Especially funny is how tragically true it is. You can't see in my crop, but he's got a Lexus and a Benz parked out front … wonder what bracket those folks are in? What's his new definition of rich again? 100k? It's dropping so fast I have a touch of the vertigo.
It's hard to imagine a more perfect picture for summarizing the things to come. Even so, I can think of some funny stuff. I reckon you can too.
So share with me now your tragically true photos or hilariously faked photos from the campaign this year. Election day is upon us, we must to humor alight for solace. If you fake it, make sure you say you faked it.
Update: Scooped by Warner Todd Huston.